Mobile Slots
Games
Goldwyn's Fairies on Mobile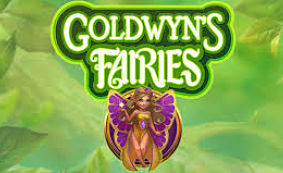 | | |
| --- | --- |
| Provider: | Microgaming |
| Paylines: | 20 |
| Scatter Symbol: | Yes |
| Jackpot: | Yes |
| | |
Where to Play Goldwyn's Fairies
Goldwyn's Fairies Mobile Slot Review

It's not often that we get new faces in the slot business, not ones that are able to rise to prominence with a swift speed, at any rate. But it seems the same may not be true for the newest Microgaming partner, the company called Just For The Win. With simple, beautiful graphics, a reel full of interesting idea and a theme that isn't based on something done a thousand times over, Goldwyn's Fairies is their first game release. So come forward on this magical adventure, but don't be surprised if the pot of gold is half empty when you arrive.
There isn't much visually that will impress players. Everything has a simple, clean artstyle that is easy to see and looks nice, but there aren't that many fancy animations, which is a good thing for gamblers on less powerful phones, but it overall brings the experience down. However, we can at least say that the developers have done a good job at choosing when to make use of animations, and that's to highlight the most important parts of this slot when they occur.
We're going to break tradition a bit to talk about Wilds first, because they're the more important part of Goldwyn's Fairies. There's a regular Wild, and a re-spin Wild. A re-spin Wild will, of course, award a re-spin. After the re-spin, it checks if more Wilds appeared, and if not, it does a final re-spin. But any Wild that was present on the reels has its position memorised, so at the final re-spin, all of those places on the playing field are filled with Wilds, which always more or less guarantees a win.
Scatters come in the shape of the game's logo, and are the least frequent thing you'll see on the reels in any useful fashion, although that doesn't mean you won't see them often. Special features happen often, and the free spins that activate from these Scatters are no exception. You are awarded ten free spins, and a similar system is put into place – you collect Wilds for that big score at the end of it all. However, for all the focus usually placed on the extra turns, this time around, they were rarely lucrative for us, making re-spins a lot more awesome to see.
How to Play Goldwyn's Fairies
So, as far as mechanics go, we were impressed. Just for the Win made something compelling for us, and with a high RTP, we were ready to jump into this experience. Unfortunately, this title has been published by Microgaming. And while bringing in new developers has certainly worked out for them, it still hasn't fixed the core problem of low variance paytables that suck the fun out of every Microgaming slot that came out in the last year or so. Set with such frequent wins, it was never going to pay too much, but when most icons reward less than your wager for a three-of-a-kind win, it's an obvious minus in our book.
You can wager $0.10 up to $250 per each spin, and we would personally suggest playing on the lower end of the scale. No matter how much the game calls your wins big or epic, the truth is that you'll be back where you started in the next five to seven spins, so if you are curious about giving it a go, you shouldn't sink all your money into it. It just isn't worth it, unfortunately.
Jackpots & Progressives
There's no progressive jackpot to work towards in Goldwyn's Fairies. Instead, all the 'big' wins come from re-spin Wilds that can chain together and create a reel full of wins. The issue is due to the way the paytable is set up, those wins rarely last for long, and what should be fantastic moments in other slots just come off boring here.
It's not that we don't understand Microgaming here, but it would have been a better idea to lower the amount of times the bonuses trigger in favour of a stronger paytable to push it into medium variance at least. Right now, it doesn't feel satisfying to play.
Bonus Games & Sign-ups
Interestingly enough, despite being the most difficult thing to activate, free spins in general tend to collect less money than usual. As such, they come off as a nice extra, but not something you should chase, unlike the re-spins.
Game Screenshots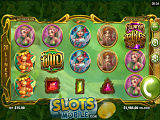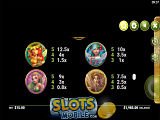 Where to Play Goldwyn's Fairies
You might also be interested in these articles