Mobile Slots
Games
Gnome Wood on Mobile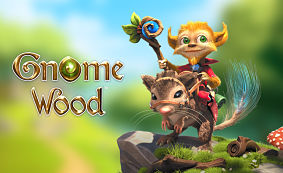 | | |
| --- | --- |
| Provider: | Microgaming |
| Paylines: | 25 |
| Scatter Symbol: | Yes |
| Jackpot: | Yes |
| | |
Where to Play Gnome Wood
Gnome Wood Mobile Slot Review

What do you think when you look at these pretty graphics? Hear the soothing music, the gentle chirp of the birds in the trees, the friendly gnome who occasionally pops out to help you with his magic? Unless your answer was a brutal fight that involves your blood, sweat, tears, teeth, and any available limbs you have lying around, you were mistaken. Because that's what Gnome Wood is. A 5 reel, 25 slot with a low variance that will have you scraping from the get-go to keep any of your wins. It's incredibly fun all along the way, but it is an awful grind along the way.
As for special features, you have Wandering Wilds, which will take up most of your time. They are quite common to see, and can appear as regular Wilds, or Wilds with a 2x multiplier. Neither of these can appear on the first reel, and they move one reel to the left each turn until they disappear off the reels, essentially giving you several free spins each time. And speaking of free spins, for three Scatters, you receive 10 extra turns and that's it. There's no multiplier, or added winnings, or anything else to it, which is somewhat of a disappointment. It should be noted, however, that if you have a Wandering Wild on at the same time as a free spins bonus, the extra turns will register, but the game will wait for the Wild re-spins to stop before activating it.
How to Play Gnome Wood
There's really not much to say when it comes to graphics and Microgaming. Big name developers always deliver on that front, and Gnome Wood is no exception. Even the usually too cutesy visuals don't come off as if they're meant for a five year old, possibly due to the obviously fantasy based theme.
As for gameplay, we really do like it. The slot isn't built on particularly original ideas, but it does execute them rather well. You always have Wilds pulling together, sometimes one after the other and it's a surprisingly well functioning system. Gnome Wood won us over with it, and the free spins came off as an extra to an already good thing. That said, as much as it's fun to play, it's frustrating as hell thanks to the way the paytable is structured.
Jackpots & Progressives
With no progressive jackpot, this sort of paytable just becomes even worse. Three of a kind wins are really bad, to the point where none of them even give you more money than what you originally bet. If you got a three of a kind gnome win, the highest paying symbol, that's still lower than your wager. To make matters worse, five of a kind wins for lower paying symbols are hardly any better. 3x or 4x the stake for a five of a kind win is abysmally low, and is the core reason why this game is a struggle.
It's obviously balanced around seeing a lot of Wandering Wilds, but it's clearly overzealously pushed. The biggest win we've seen out of Gnome Wood is 35x our wager, which was what put us back in the same spot that we started with as far as money goes. Beyond that, free spins will usually pay out between 7x to 8x the stake, and regular wins will usually perform below the wager, with 2x or 3x wins occasionally breaking things up.
Bonus Games & Sign-ups
Beyond a gamble special feature in which players can bet their wins to double their score, there are no additional bonuses. It's a shame, as we felt that the slot could use another special feature or two to offset the horrible paytable, but even as it is, it's enjoyable – so long as you don't look at the rapidly draining balance.
Game Screenshots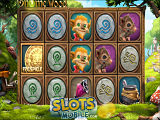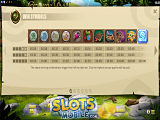 Where to Play Gnome Wood
You might also be interested in these articles