Mobile Slots
Games
Glow on Mobile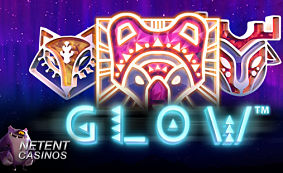 | | |
| --- | --- |
| Provider: | NetEnt |
| Paylines: | 15 |
| Scatter Symbol: | No |
| Jackpot: | Yes |
| | |
Where to Play Glow
Glow Mobile Slot Review

The northern lights are always an interesting sight – there is something captivating about them, almost otherworldly in their existence, fuelling a fair few myths and attracting the imaginations of many even today. Their beauty is a rarely matched thing, but we have to admit that the northern lights finding their way into slots as the chief decoration was something we weren't expecting! This NetEnt release boasts 5 reels and 15 paylines and offers players a unique free spins special feature that will impress a fair few players and it'll fill you with a newfound respect to your animal friends! The ones on the reels, at least.
The changing colours of the backdrop as it shifts and glows can cause a bit of conflict between symbols and the animated background, yet the visuals are fun and fit the name of the game. It uses a mixture of poker card icons and unique artwork which comes in the shape of different animals drawn as totems. Even if it isn't the most impressive things we have seen, the artstyle is solid. We quite liked the looks, save for that small issue we mentioned and we'd love to see more in a similar design.
Glow doesn't have any Scatters. Instead, their usual role, assigning free spins, is relegated to common wins. If you score any wins with some of the totem animals in them, you get a certain amount of free spins, from one to five rounds, and you will usually need at least three animals to activate it, except for the stag totem, which needs only two. With wins during free spins awarding double their usual amounts, this means you will have one or two free spins every now and then, rather than chasing them across a long session, which may appeal to a few players more so than the usual thing.
There aren't many fun things to do with Wilds, sadly. They can replace all icons and they bring their own 2x multiplier, but there's little else to them. They can be useful in a pinch and the bear symbol is cool to look at, but there's little that really sets it apart.
How to Play Glow
The gameplay should be familiar, as the slot is a clone of a previous NetEnt release called Fruit Shop. While that particular release never did catch as much attention as Glow did, if you played it, you'll know what to expect. This is a low variance game, but you could make the argument you're meant to have smaller wins over one giant win. This might just be a bit of personal bias speaking, but we know which one we like better, even if it doesn't work out the best for us in the long run.
You can play this title for $0.15 up to $150 by adjusting your coin value and bet level. Sadly, the 15 paylines remain fixed, but it doesn't make much of a difference in the long run. $0.15 is a small enough sum even for the lower end of the market, so it's all up to luck after you fire it up.
Jackpots & Progressives
There's no progressive jackpot awaiting you in Glow, unfortunately. The slot does offer a 2,000x fixed jackpot if you can make it happen and on top of that you have a 96.7% RTP to work with. The structure of the game works in such a way that players will probably be looking to score more single wins than a large jackpot, though.
You will want to see as many free spins and Wilds to make use of their multipliers and of course not having to pay for a spin or two is always great.
Bonus Games & Sign-ups
There aren't really defined bonus games there. The free spins do exist, but they're more part of the common play rather than a special feature by themselves, as they have less of an impact, but appear far more frequently.
Game Screenshots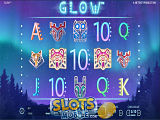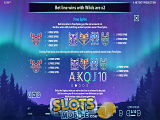 Where to Play Glow
You might also be interested in these articles