Mobile Slots
Games
Funky Monkey Jackpot on Mobile
Home
> Funky Monkey Jackpot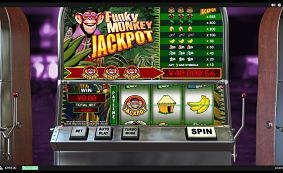 | | |
| --- | --- |
| Provider: | Playtech |
| Paylines: | 1 |
| Scatter Symbol: | No |
| Jackpot: | Yes |
| | |
Where to Play Funky Monkey Jackpot
Funky Monkey Jackpot Mobile Slot Review

It's often hard to grasp how much time has just passed. We're still prone to thinking the 1990s were ten years ago rather than twenty, we're slowly having to deal with the fact we're not as young or as hip as we used to be and we find ourselves complaining about good those young ones have it frequently enough that it started raising red flags. But, between the slew of dad jokes and grumbling, it's often easy to forget how far we have come from the humble start of this industry, back when you had only one payline, no features and just one lever to keep pulling on and hoping for the best. Overall, we can all agree that despite their flaws, slots today are a lot better than they used to be. Still, nostalgia is a powerful thing and people love to dive back into old experiences they had lots of fun with, hence why we see so many remakes of movies, games, and yes, even slots.
Funky Monkey Jackpot offers gamblers a 3×3 playing field with 1 fixed payline, sitting at a dangerous high volatility. There's no Wilds, Scatters, free spins or special features. There's only you, the tiny reels, and the monotone action of pulling the lever like in the good old days. Sadly, pressing a button or tapping on the screen isn't nearly as interesting as pulling on a physical lever, but if you've been craving a revisit to this title, it may be the closest thing possible short of finding an actual physical machine of it. And we get it, that cool monkey with his kick ass purple shirt and sweet shades is hands down one of the best things about this slot, save for the promise of 5,000x your wager if you manage to hit the jackpot. Or, if you don't mind spending the maximum $8 per spin, that jackpot grows even bigger, making you eligible for a progressive jackpot.
How to Play Funky Monkey Jackpot
When it comes to this game, graphics are very straight forward. There's a big, physical machine sat in front of you, displaying all the wins and some cool artwork, the reels sit directly in front of you and all the options you can adjust are done with big buttons on the machine itself. And sure, you can press that big spin button – or you can click the lever to make the machine play, which is a minor touch that really adds a bit to the experience. Not really related to visuals, but a light, relaxed soundtrack could have done some good, as well as the ability to press a button on the keyboard to spin, though it seems like Playtech was intent on staying true to the original depiction.
On the gameplay side of things, all we can say is that we're happy that games have evolved since they first appeared as simple, physical machines. Without Wilds or Scatters, without any bonuses, you're just spinning on this tiny reel, watching the same symbols appear over and over, and thanks to the high volatility of all titles at the time, you'd get next to no wins, and when you did, it was pennies that you spent in the next two to three spins. Until you cashed out big, old slots weren't interested, and that takes a while. Tying a progressive jackpot to such a system works well.
Jackpots & Progressives
What rubs us the wrong way a bit more, however, is the fact that Funky Monkey's progressive jackpot is only available if you're at the maximum bet, which is $8 per spin. Keeping in mind that you can only play the slot for $1 at the minimum and $8 per spin at its highest, it's very clearly not meant for the sort of audience that might have budget issues, but forcing the highest possible bet just to get a shot at the progressive jackpot is somewhat cruel. We'd take off more points for it, but even without it, the fixed jackpot is 5,000x the wager, which is a pretty beefy win either way, and even at the lowest bet level, it should be a big payout.
Bonus Games & Sign-ups
There are no special features in Funky Monkey Jackpot.
Game Screenshots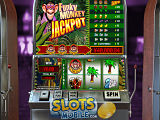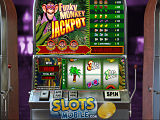 Where to Play Funky Monkey Jackpot
You might also be interested in these articles