Mobile Slots
Games
Fu Chi on Mobile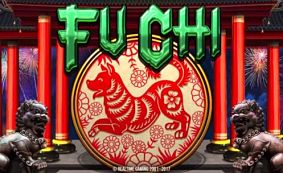 | | |
| --- | --- |
| Provider: | RTG |
| Paylines: | 50 |
| Scatter Symbol: | Yes |
| Jackpot: | Yes |
| | |
Where to Play Fu Chi
Fu Chi Mobile Slot Review

It seems Microgaming isn't the only one trying to use the holiday cheer over the Chinese New Year to try and bestow some fortune. Indeed, as the Year of the Dog looms above us, RTG has come forward with its own slot that works to combat the fierce beast that terrorizes the innocent citizenry of China's villages. And while Lucky Little Gods dealt more with the worship of ancestors, Fu Chi is much more orientated on the upcoming year of the Dog and the familiar traditions to drive away the Nian. The prevalence of the colour red, lit lanterns, scrolls and firecrackers, all the small details have made their way over to the digital rendition. It's not the most visually impressive game, especially for 2018, but it has a somewhat old, rustic charm, and it is fun to play.
Fu Chi features a 5×3 playing field with 50 flexible paylines, allowing gamblers to adjust how many of them they want active at once, a trend that is becoming less and less popular with a lot of other providers. RTG sticks true to their guns, and while the slot tackles a recent event, it certainly keeps the traditions of games. Wilds that pay handsomely and double all the wins they are a part of. For the first time in a while, Wilds can also replace Scatters, allowing for a much easier time to trigger free spins. In turn, the amount of free spins is doubled if no Wilds are a part of the Scatter combination, allowing for a maximum of 60 free spins. And when you add on top of that that all prizes are tripled for the duration of the bonus, as well as the fact the free spins can be retriggered, it's almost too good to be true. Which is, of course, the perfect time to reveal that on top of all that, the RTG's release also has two progressive jackpots to keep gamblers busy as they play.
How to Play Fu Chi
We have to admit, while we love RTG slots, the guys who work there seem to have gotten a bit comfortable in their shoes. As we see more visually advanced titles appearing from other developers, it seems that the developers in RTG have taken a calm approach, maintaining their working formula without many shifts in improving. It's a bit difficult to look at this game, and think it was made in the first month of 2018. While the theme and little details are certainly well placed, it doesn't change the fact that the graphics are way below what is industry standard now. If RTG hopes to keep competing, they will need to bump this up.
On the gameplay end of things, it's a somewhat simple, but enjoyable loop. The presence of Wilds being able to replace Scatters is certainly novel, as you rarely see it done in any other slot. Rather than punishing, Fu Chi incentivises gamblers to try and get the free spins without Wilds for more extra turns, and on top of that, the ticking of a progressive jackpot helps keep gamblers interested and spinning away through the whole thing.
Jackpots & Progressives
There's not one, but two progressive jackpots to keep an eye out for, a minor and major jackpot. We've been over our dislike for splitting jackpots in such a way many times, as it ruins the thrill of it to get the 'minor' prize, but we won't stick around on it for too long. Beyond that, there are some good prize winning mechanics. The free spins are, of course, the most obvious, but Wild can also make some fun combinations of its own when placed right.
Bonus Games & Sign-ups
Beyond the above mentioned bonuses, there are no other special features to mention in Fu Chi.
Game Screenshots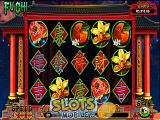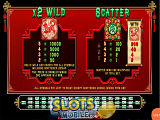 Where to Play Fu Chi
You might also be interested in these articles