Mobile Slots
Games
Forbidden Throne on Mobile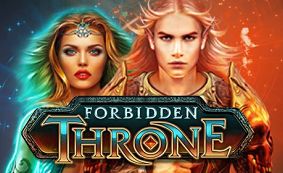 | | |
| --- | --- |
| Provider: | Microgaming |
| Paylines: | 40 |
| Scatter Symbol: | Yes |
| Jackpot: | Yes |
| | |
Where to Play Forbidden Throne
Forbidden Throne Mobile Slot Review

The battle is ready to take place. In a far-away world, magic reigns supreme and two rival sorcerers are ready to duke it out with their powerful, animal familiars, in a clash of ice and fire that might leave George R. R. Martin wondering if he should sue. Still, it's impossible to deny the gorgeous look and feel and think that Microgaming wants this one to stand out and succeed in a sea of somewhat mild and disappointing releases so far. So imagine our surprise when this 5-reel, 40-payline slot ended up being even more of a disappointment than usual. One full reel Wild each turn with the promise of more, free spins that can be activated with Scatters and a proper feeling of awe and wonder when you first start it. But then you play it and realize that the throne is forbidden for a reason – it leaves you jaded and annoyed.
The animations and graphics are wonderfully done, but we really wouldn't expect any less from one of the largest names in the industry. The game does have a Game of Thronesy feel, with a dash more magic added on top of it, but it is distinct enough to stand on its own. Might make for a good set of novels in the hands of a skilled writer, though it provides a decent enough visual experience as well. Gemstones, expensive books, helmets of fallen soldiers and even magical charms can all be found on the charred remains of the battlefield along with a fiery knight and an icy sorceress laying claim to the magical castle and the forbidden throne that lies within it.
Scatters don't really offer anything exciting. They are used to activate the free spins special feature and the amount of rounds you get depends on how many Scatters triggered the bonus. They can be retriggered, which is nice, and they can be activated through the full reel Wilds.
That's right. Beyond ordinary Wilds, you are guaranteed to have at least one full reel Wild with each spin. All of these have a different icon with a small animation, and while they're nice to look at, they usually don't end up nearly as useful as you might have hoped they would be.
How to Play Forbidden Throne
You would think with full reel Wilds, Forbidden Throne would be a gamblers' paradise in making interesting wins happen all the time. We thought so, too, and we found ourselves quite wrong. Microgaming's chase after low variance really shows its flaws here, as you have several five of a kind wins that don't even pay as much as your bet, in fact, only four of the eleven icons that pay have a five of a kind win that goes above your wager. That's hilariously bad and you must have an insane RTP and constant wins to justify something like this.
And yet, the slot doesn't even have that. With full reel Wilds and a low paytable, they also have the gall of having a lot of dead spins where you win nothing. It's not like you have much to look forward to when you do win something due to the abysmal structuring of the paytable and this whole experience just left us with a foul taste in our mouth. You can play it at $0.40 at a minimum or $200 as a maximum, but even $0.40 per spin is asking too much for this.
Jackpots & Progressives
The game doesn't even have progressive jackpots to work towards. And if you were hoping for a big win from a fixed jackpot, Forbidden Throne has left an enticing five of a kind Wild win that will reward the lucky gambler with a 12.5x increase. This is the highest win in Microgaming's release, for scoring five Wilds at once, something that's usually unattainable. You could make the argument that having full reel Wilds makes it too easy to win, but then why are there so many dead spins?
The only potential hope you might have is for the stars to align and for you to get big wins in a row when you score free spins, because the slot will just munch your coins otherwise. We really can't remember the last time we were this disappointed in a game. It is just a disappointment.
Bonus Games & Sign-ups
You can score between ten to thirty free spins by activating a different number of Scatters on the playing field. Scatters can also gleam through the full reel Wilds, so the full reel Wilds technically wouldn't block the activation. These are the only actual thing that will earn you some money in the long run. Everything else is just horrible.
Game Screenshots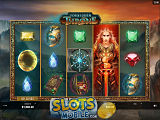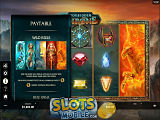 Where to Play Forbidden Throne
You might also be interested in these articles