Mobile Slots
Games
Fantasy Mission Force on Mobile
Home
> Fantasy Mission Force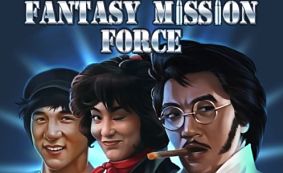 Slots Features
Slots Game:
Fantasy Mission Force
Reels:
5
Wild Symbol:
Yes
Max Bet:
20 coins
Rating:
| | |
| --- | --- |
| Provider: | RTG |
| Paylines: | 20 |
| Scatter Symbol: | Yes |
| Jackpot: | Yes |
| | |
Where to Play Fantasy Mission Force
Fantasy Mission Force Mobile Slot Review

When you say movie tie-in slots, a lot of ideas go through our heads, but a 1983 humorous action flick from Hong Kong was not what we'd expect to see as a 2018 release. And yet, here we are, as RTG, like many others, plaster the face of Jackie Chan on the front of it all, despite having only a supporting role in the movie. The movie is fun, and doing about as much as it can to go over the top, as the cast faces off against cannibal amazons led by a man in a suit, then are forced to survive in a haunted house full of Jianshi, a sort of hopping vampire that are mythological creatures in China, before facing off against Japanese Nazis who fight with swords and axes while riding around in muscle cars straight from the 1970's. With a general idea of what sort of ridiculousness you can expect from Fantasy Mission Force, you might think the mess would carry itself to the gameplay, but RTG played it by the book here.
The slot offers gamblers a 5×3 playing field with 20 variable paylines, allowing gamblers to turn them on and off according to their desires, which certainly helps keep this game accessible to gamblers from less well-off countries of the world. On top of that, you can find Wilds that double all wins they are a part of, it has a free spins bonus that is triggered by placing a Scatter on the first reel at the same time as a Wild appears on the fifth. A Kaboom! bonus adds a Bickford fuse to some symbols, Bickford being a character in the movie. This adds additional free spins, and each symbol can add up to three free spins by itself. And you will want as many of these as possible, since all wins are tripled during the special feature. And to spice things up even further, the RTG's release offers a progressive jackpot that is tied in with several other titles and is just waiting for the lucky gambler to come claim it.
How to Play Fantasy Mission Force
While we already spent some time discussing it, it seems it is going to be a recurring point we are going to keep coming back to until things change. Despite being a 2018 release, the graphics are visibly dated and look like they might belong to a slot released a few years before. While we don't consider ourselves to be particularly demanding when it comes to visuals, RTG is severely behind the times with theirs, and it's not something we can ignore when reviewing a product. We certainly hope to see an improvement as time goes on, but as the developers have already announced the next movie tie-in that involves Jackie Chan, we feel that we might have to wait for that graphics update.
On the gameplay side of things, Fantasy Mission Force doesn't seem to be doing anything different. The high volatility of the slot will keep you spinning in hopes of hitting the lucrative free spins, or if you're particularly lucky, you might get the progressive jackpot, as well. It's quite enjoyable to play, despite nothing new really being added, and as much as we may dislike RTG to sticking to a formula at times, there's also no denying the formula works and it works incredibly well.
Jackpots & Progressives
The progressive jackpot is always visible in the upper left corner, enticing you to keep spinning in hopes of getting a win. There's nothing you can really do to help yourself to it, as it is a random trigger – just hope you're lucky enough to hit the spin button when the jackpot gets awarded. If you don't get it, however, don't feel too bad. There are sizeable ways you can win with the help of free spins.
Bonus Games & Sign-ups
There are no additional bonuses beyond the ones we already mentioned.
Game Screenshots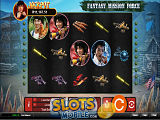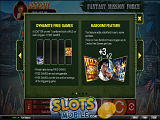 Where to Play Fantasy Mission Force
You might also be interested in these articles