Mobile Slots
Games
EmotiCoins on Mobile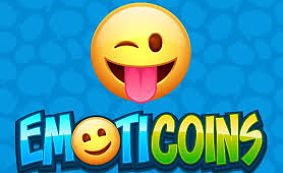 | | |
| --- | --- |
| Provider: | Microgaming |
| Paylines: | 30 |
| Scatter Symbol: | Yes |
| Jackpot: | Yes |
| | |
Where to Play EmotiCoins
EmotiCoins Mobile Slot Review

A review or two ago, we mentioned how NetEnt wasn't about to let Microgaming get away with silly looking slots and promptly decided to make EmojiPlanet. Now it seems it is Microgaming's turn to take the torch, as they made their own emoji-based game called EmotiCoins. It has 5 reels and 30 paylines and is much more traditional when compared to EmojiPlanet. In addition to having more traditional winning lines, the bonuses you can find in Microgaming's title are far less creative. It offers a randomly triggered Wild Blast that plasters up to 5 Wilds on the reels, with the keyword being 'up to'. While most of the time it does deliver 5 Wilds, it can sometimes deliver far less. The second special feature is a simple free spins bonus activated by three or more Scatters, though it's made more special thanks to sticky Wilds.
And while we always had high praise for visuals, Microgaming really seemed to have missed the mark here. We're really not sure if they just didn't know how to handle the slot's theme, or if it was a hastily put together project that was put forward to pad their numbers. But there's no denying that the graphics are basic. They're certainly not bad, mind you, and everything is still smooth and looks presentable. But it's boring, especially when you compare it to its main rival, Emoji Planet, that has cluster wins and constant re-spins that keep things interesting.
Scatters use the LOL symbol, and Wilds make use of the EmotiCoins logo. Both actually have a included cash prize, which was a pleasant surprise, and they both mark the highest wins you can score, as is tradition when games assign cash values to their rarest symbols. The free spins become active if you get three or more Scatters, but you receive only 10 extra turns, regardless if you get three or five Scatters. Instead, the only bonus you get is the cash prize. Once the free spins themselves are running, you get one sticky Wild every second spin, so you're guaranteed to have five Wilds by the end. How much they're worth depends heavily on where the Wilds land, so you can have a mediocre win, or one that reaches up to 90x your wager, which is huge for this slot.
How to Play EmotiCoins
From our experience with this game, it follows the similar design pattern of mediocre wins and a lousy paytable that have plagued quite a few recent Microgaming releases. Outside of this, the wins seem to have a constant ebb and flow to them. We had a nice winning streak that dried up and started putting us in the red, before a well-timed set of free spins appeared to rebound our losses and even put us ahead a little bit. Of course, then you start spinning again, and the losses still come up a bit more than the wins. It's a slow bleed of money, but we can't say that EmotiCoins blocks players from achieving good scores during base game either, as we ran into two to three five-of-a-kind wins while playing.
If you plan on giving it a spin, Microgaming came prepared. You can play the slot for $0.30 up to a whopping $300, with a metric ton of options in between. We're not certain what specific soul out there might want to bet exactly $73.50 per spin, but if they do, the developers have them covered. And while a lot of options are certainly nice, it does take quite a bit of spam clicking to go from min to max bet, and there's no fast way to do it either.
Jackpots & Progressives
With no progressive jackpots in mind, it naturally pushes the player to wonder what sort of wins you can get out of EmotiCoins? The answer is that they can get impressive, as even during normal gameplay five-of-a-kind wins aren't that uncommon to see, thanks to the healthy balancing of Wilds and various Wild related bonuses. Indeed, free spins and Wild Blast really change up the tempo and can swing things back in your favour, for wins that sit around 90x and 100x one's wager.
That said, these are then usually followed up by a sore losing streak and minimal wins, and the paytable makes sure that for the largest duration of the game you're bleeding money. As such, Microgaming's ever continuing greed puts down yet another potentially fun slot.
Bonus Games & Sign-ups
Beyond the two aforementioned special features, there's little else EmotiCoins offers. Even in this regard, it seems to fall behind NetEnt's EmojiPlanet. So, if you're desperate for some kind of game that features emojis, we'll have to recommend EmojiPlanet over EmotiCoins.
Game Screenshots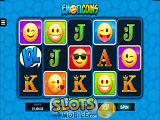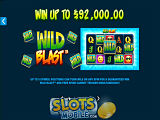 Where to Play EmotiCoins
You might also be interested in these articles