Mobile Slots
Games
Emoji Planet on Mobile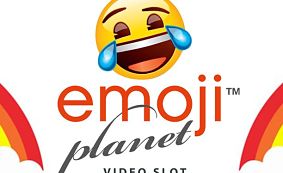 | | |
| --- | --- |
| Provider: | NetEnt |
| Paylines: | All Ways Pay |
| Scatter Symbol: | No |
| Jackpot: | Yes |
| | |
Where to Play Emoji Planet
Emoji Planet Mobile Slot Review

It wasn't even a week ago that we were talking about Sugar Parade seeming out of left field, but it seems NetEnt decided to rush in, not one to be upstaged by Microgaming. After all, what's more hip and cool with the kids if not emojis? It started off with a movie, but now it seems it's spreading into slots as well. It offers 5 reels with no actual paylines or Scatters. Instead, wins are based on clusters of icons being together, as they fall away and make room for new symbols to land on the reels, allowing particularly lucky players to chain together wins, similar to Gonzo's Quest.
And speaking of Gonzo, both him and the pig from When Pigs Fly make an appearance here, showing up on the right and waving to the player while he's idling. As you start to pile wins together, the music also picks up the pace and you climb higher and higher into the sky. It does really help to get you in the mood as your winning amount increases and you start collecting icons to activate the special features. It helps add structure to something as random as emojis, which deserves a medal all on its own.
Instead of having Scatters, EmojiPlanet throws them aside and relies on the five lowest paying symbols to do the work for it. There are a total of eight different emojis you can find, but the highest paying ones don't have a bonus attached to them. On the other hand, the bomb, pizza slice, kiss mark, rocket and two hearts can all trigger a bonus if you collect twelve of them during a single spin and all consecutive re-spins. However, if the re-spins stop and you haven't filled up the bar for that particular icon, it doesn't play out, so you'll have to start all over again.
How to Play Emoji Planet
But apart from a theme that tries too hard to appeal to a younger market, the slot marks a return to a more high volatility setup, something that's been somewhat absent from NetEnt titles the past few years. Still, we're not sure why this was chosen, as we're certain a less random theme might have worked to tug in the old guard that has a fondness for how the developers used to do their games.
You'll need at least five symbols to score a win, and it's fair to say that you won't have much luck reaching the higher ends of the paytable. Looking through it, it isn't that great, but at this point, we're taking any improvement and hoping it sticks. Single big wins aren't going to mesh well with how EmojiPlanet plays. Instead, the big draw is waiting for the volatility to work out in your favour and you start to chain win after win added in by the various special features. That's when this slot shows its best colours.
Jackpots & Progressives
There's little in terms of a progressive jackpot for you to chase, so we're sorry if you were hoping for that. Still, there's no cap as to how high you can rack up the win count as far as we could find, so inquisitive gamblers may want to try and find that out. It has big winning potential, but you shouldn't expect to get it within the first hundred or so spins. EmojiPlanet keeps its cards close to its chest and the game wants to make sure you've been spending a little bit before it lets you pilfer the treasure.
As such, there's nothing more to say than to get spinning and hope it doesn't take long for the wins to start rolling in. And by all means, when you see the slot decided to clamp up on the wins, take a bit of a break. Or else you might end up a fair bit in the minus like us!
Bonus Games & Sign-ups
To activate a special feature in this game, you need to collect twelve of that same symbol during a spin and all the re-spins that come after it. When the re-spins stop, that's when all the bonuses play out. Bombs take out 8 random icons and reward a cash prize for each one, which is randomly picked between 5 and 100x the wager.
Twelve pizzas trigger a 3×3 overlay of a random symbol to appear on the playing field. The only icon that can't appear is the Wild.
With enough kisses collected, EmojiPlanet will plant three smooches on the reels, which transform into Wilds. These Wilds stay in place and lose a bit of their 'life' each time they are part of a win. After three wins go through one of those three Wilds, they disappear.
The rocket special feature launches a rocket through one of the five reels, leaving behind a stack of Wilds which is usually a guaranteed win.
And finally, the two hearts bump up the multiplier, which affects all the wins you've collected so far, making it an awesome pickup.
Game Screenshots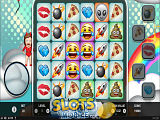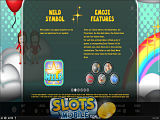 Where to Play Emoji Planet
You might also be interested in these articles