Mobile Slots
Games
Dragon Kings on Mobile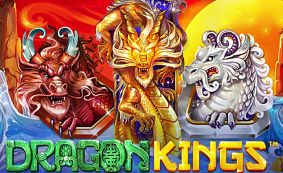 | | |
| --- | --- |
| Provider: | BetSoft |
| Paylines: | 10 |
| Scatter Symbol: | Yes |
| Jackpot: | Yes |
| | |
Where to Play Dragon Kings
Dragon Kings Mobile Slot Review

The concept of dragon is something that several cultures have envisioned, each with their own different take on things. In Europe, they were large, fire breathing lizards that terrorised villages, stole valuables and pretty girls and made for a great trophy for any knight looking to get his mitts on some quick-earned fame. In Oriental cultures, China in particular, they were more snake-like than regular lizards, vastly intelligent and played more of a wise mentor role rather than story antagonist. Still, they were and remain fierce creatures, regardless of which version you take – and any war of theirs is without a doubt a fierce and terrible thing. So let's see if we can come out on top as these Chinese dragons duke it out for whatever it is dragons fight over.
Dragon Kings offers gamblers a 5×3 reel set with 10 fixed paylines. It has a medium volatility and an RTP of 95.2%. Now, you might be worried about the low amount of paylines, but that's balanced out by the presence of an absolute myriad of special features. You have the Dragon King acting as Wild and doubles any win he's a part of, a free spins bonus you can either collect three or more Scatters to activate or pay an up-front cash cost for a guaranteed 30 extra turns. You also have a sixth reel which can contain the magical dragon orb, which is used alongside the Dragon King and other dragons to unlock big, fixed jackpots. Finally, all the dragons are Wild and each one has a small bonus associated with them once they appear on the playing field. The azure dragon awards a re-spin with all dragons kept in place, the white dragon will create another one just like it left or right of himself, the red dragon rewards a random cash prize up to 400x and finally, the black dragon multiplies all winning combinations by 3x.
How to Play Dragon Kings
In order to ensure you're not overwhelmed by the myriad of special features on offer, let's take a small break and talk about the graphics. We're not really amazed, but we're also not disappointed either. The user interface design is very stereotypical old Chinese, with green and red dominating the buttons with light gold plating around the edges. The backdrop of a dragon's lair built on top of a spire of rock jutting out of the water is really cool looking. Symbols are a bit of a mixed bag, but we've overall liked them design and looks, with the exception of playing card symbols like J, Q, K and A.
On the gameplay front, there are more features here than your wife has shoes. A lot of them tie into one another in some form or another, which we quite like, we're not going to lie. By themselves, all of these are relatively minor things, but then you get those big jackpot scores, and everything that has to come together before that to unlock it ensures that you're getting a solid win even before the jackpot is unlocked. The fact there's also four different tiers and that you unlock them in the way you do means that the whole thing is one giant heart-stopper – gameplay that seems a bit more fitting for a high variance title.
Jackpots & Progressives
So, what do you need to do to get one of those four fixed jackpots? The first one, the Bronze jackpot, asks you to have the Dragon King and one other dragon on the regular playing field, and the magical pearl on the sixth reel. From there, the requirements grow by one dragon each time, so the silver jackpot will demand the Dragon King, the magic orb on the sixth reel, and –two- dragons this time around. The biggest and most mind-numbingly high win requires you to win the Dragon King and all four dragons and the magic orb on the sixth reel. If all of those come together, you're guaranteed for a solid win on your own, let alone with the jackpot on top of it.
Bonus Games & Sign-ups
There are no other bonuses in Dragon Kings.
Game Screenshots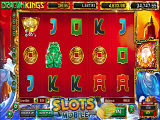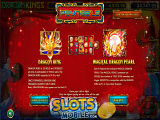 Where to Play Dragon Kings
You might also be interested in these articles