Mobile Slots
Games
Dirty Dancing on Mobile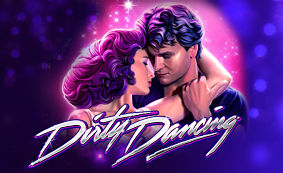 | | |
| --- | --- |
| Provider: | Playtech |
| Paylines: | 40 |
| Scatter Symbol: | Yes |
| Jackpot: | Yes |
| | |
Where to Play Dirty Dancing
Dirty Dancing Mobile Slot Review

With lots of reboots, remakes and others variation of that theme hitting the market with increased popularity, it seems everyone wants to deal with the present by just sticking their heads into the good old times and reliving the nostalgia. Like, remember that super romantic movie from the 80's people loved? Enter Playtech, stage left, with Dirty Dancing, a 5×4 reel slot with 40 paylines, with the likeness of Patrick Swayze, Jennifer Grey and Cynthia Rhodes present on the playing field, and in brief reels from the actual movie itself. The big draw comes from its two progressive jackpots and a myriad of special features.
And since it's based in the 80's, you can bet it looks like someone threw up purple and pink glitter all over the reels. It's not that it looks bad, but it is a rather droll looking affair. Playtech wanted to imbue their game with a retro feeling of a dancefloor, so it exploited the purple mania that rocked that decade to the maximum. We can't fault it, as besides the backdrop, the rest has a rather colourful cast, made out of important symbols that were present in the movie.
However, while Wilds and Scatters are both present on the playing field. They aren't actually used to activate any special features. Good old Johnny himself acts as a Wild, and you'd think they'd use Baby as a Scatter, but for a reason beyond our comprehension, they chose to go with the bland logo instead, and left the co-star of this movie as a regular icon. It feels like a rather odd choice on Playtech's part, but it's their title, so we suppose someone just wasn't that fond of Baby. However, both of our main characters appear as progressive jackpots, which can only be reached through one of the special features.
How to Play Dirty Dancing
One thing that will become obvious enough after a few spins is that the slot is stacked against you, for the most part. It will depend on how high you bet, and how lucky you are with the special features, which are triggered randomly, but more often than not, you'll be seeing dead spins and wins that sit below your wager, which will then usually somewhat balance out by a decent win from one of the bonuses that will put you about the same place as your starting balance, or a little bit behind it. It's not uncommon for progressive jackpots to use this sort of gameplay, but that doesn't mean we have to like it that much.
As such, if you plan on playing Dirty Dancing, you should make sure you're in it for the long haul. We predict Playtech won't be giving up on of those two progressive jackpots without a fight, so you'll be there for a while.
Jackpots & Progressives
The game offers prospective gamblers two progressive jackpots to chase. Either Baby or Johnny will grant you that final dance that will leave you sweaty, worked up, and thoroughly happy you made it. To even get to that point, you have to play the Dirty Dancing bonus, which has a random chance of appearing, and has six stages, in which you need to collect cash prizes and items. To get the progressive jackpot, you need to go through all six rounds collecting three items, which is a lot more challenging than what it might sound like. It's the epitome of gambling to get there – you have to hope you get the right special feature, then to get items instead of cash prizes, and to manage to do it six times in a row. Talk about work!
Still, there's no denying that outside of the progressive jackpots, you're looking at disappointing wins and lukewarm ones at best. Dirty Dancing and Mambo free games are usually pretty solid when it comes to pays, but not enough by themselves to usually dig you out of the financial hole normal gameplay will put you in.
Bonus Games & Sign-ups
We already explained how the Dirty Dancing bonus works, so now we'll talk about the Mambo free games and Whirling Wilds. Mambo gives you a giant wheel to spin, and with it, you can get powerful modifiers that set how many free spins you will receive, what the multiplier will be, and if you'll be seeing dancing Wilds make an appearance. Meanwhile, Whirling Wilds are the most common of the three, as we usually saw them appear once or twice every fifty or so spins, where they showed up and added in a few Wilds, which also led to the highest score we got in the whole game, which sat around 80x our wager.
Game Screenshots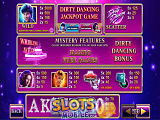 Where to Play Dirty Dancing
You might also be interested in these articles