Mobile Slots
Games
Diamond Strike on Mobile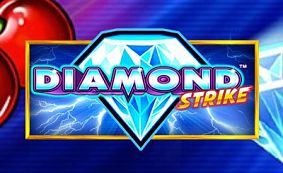 | | |
| --- | --- |
| Provider: | TopGame |
| Paylines: | 15 |
| Scatter Symbol: | Yes |
| Jackpot: | Yes |
| | |
Where to Play Diamond Strike
Diamond Strike Mobile Slot Review
They say diamonds are a girl's best friend, but we wager men and women alike would love to get familiar with a full row of diamonds you can find in this slot! Diamond Strike is another title by Pragmatic Play, which offers 5 reels and 15 paylines to gamblers who are ready to risk it all to get their hands on that shiny diamond. In fact, the entire theme is balanced specifically around being a slot that looks like an old school slot game. You have diamonds, fruit symbols, bells and sevens, and if you're the type looking for thrills and excitement, you should keep an eye on diamonds that act as Wilds and lucky golden sevens that trigger one of four fixed jackpots you can see on top of the screen.
Beyond those two, there are also free spins that exist as part of Scatter. Scatters have to appear on the first, third and fifth reel at the same time, and unfortunately offer no cash prize. They do reward 8 free spins and you can retrigger the bonus, seemingly indefinitely, at that. When the extra turns start, additional Diamond Wilds will make an appearance, and you don't have to worry – you can trigger one of the four jackpots while the free spins are up and running.
How to Play Diamond Strike
This sort of theme seems more at home with 3 reel slots, which often emulate a physical machine in their design. While there's no rule against it, we feel that in a sea of ideas, Pragmatic Play just decided not to bother and went with whatever was handy at the time. Right now, it feels a bit lacklustre, as the visuals, while fine, don't stand out that much to us. The feel of the whole thing could be a lot better.
On the gameplay front, it isn't as good as some Pragmatic games tend to be. A big part of their titles is how well you can bounce back, and while the fixed jackpots will no doubt be pointed as a possibility, they are a remarkably rare treat. In our experience, both free spins and Wilds aren't that common in this title, which can certainly slow things down. Diamond Strike certainly isn't bad, mind you. It's just not great either.
Jackpots & Progressives
There's no progressive jackpot ticking above the screen and waiting to entice you to drop copious amounts of money in hopes of winning them. But in their place four fixed jackpots sit, ranging from 10x to 1,000x your total wager depending on your luck and which one you get. We already stated that we don't like multiplier tiers of jackpots, as it can make the lower ones feel not worth it – what should be a moment of triumph ends up deflating and becoming a disappointment.
Outside of those jackpots, the best wins come up when the free spins are up and running. Outside of them, a good Wild placement can sometimes cause a win, but like most Pragmatic titles, these are wins that hardly make a big boost to your budget. They're more of a band-aid, as you spin in hopes of getting the biggest jackpot, and for that reason, it plays similar to a progressive jackpot, without actually having one around.
Bonus Games & Sign-ups
Which of the four jackpots you get is determined by a small bonus game, in which you're presented with a 4×3 reel full of diamonds. You press one diamond, and try to match it with another one, and if both your guesses are the same icon, then they stay on the reels. It does add a seemingly strategic element to the whole thing, but whether you can actually manoeuvre your way into the better jackpot or not, we can't tell as we never had the luck to trigger it.
Game Screenshots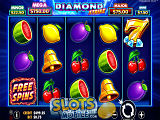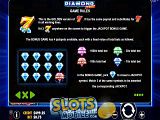 Where to Play Diamond Strike
You might also be interested in these articles