Mobile Slots
Games
Castle Builder II on Mobile
| | |
| --- | --- |
| Provider: | Microgaming |
| Paylines: | 15 |
| Scatter Symbol: | Yes |
| Jackpot: | Yes |
| | |
Where to Play Castle Builder II
Castle Builder II Mobile Slot Review

We're happy to see that sequels to old, popular slots are becoming a thing. And if there was one that we were hoping would swing back and make a return, it was most certainly Castle Builder. And this time around, Rabcat and Microgaming teamed up to make the sequel just as fun and exciting as the original, while improving on it. More builders, several kingdoms worth of castles to build and being able to climb the ranks from bronze to diamond, which unlocks a whole new builder to play, while also increasing your RTP and improving the skills of your existing characters. With 5 reels and 15 paylines, you start off small and grow bigger, until you're the best builder in all the lands.
We love it visually. You go through a fair few location that are quite distinct from one another, and the reels also shift along with the backdrop and your choice of builder. The various materials you need to build the castles are present on the reels and they look spectacular. You can see your constructions as they get done, and it's a little bit disappointing that you can't really see your old castles or visit them when you're done. Instead, you can look at them from up to the map, and when you click them, it shows a sketch of the castle, but you can't take a peek at it again. You and your reels are always sat at the castle that's being currently built, whether you like it or not.
While both free spins and Wilds are present in the actual title, your access to them is locked away by your choice of builder. There are three builders in total – Sam, Mandy and Igor. Sam doesn't have Wilds or free spins, but he builds the castles fastest and makes for the best character to finish the whole slot off with, which doesn't take as long as you might think. Mandy is a bit less efficient, but has free spins on her side that activate when three Scatters make an appearance. Finally, there's Igor, who has expanded Wilds, but unlike the other two, you need to unlock him first.
How to Play Castle Builder II
So, if you're new to this whole thing, you might be wondering how it all works. And it's quite simple once you get the hang of it. The core gameplay loop is still the same. You spin the reels and you win money, but you also pick up materials. You need these materials to build the castles, so how fast they go is a bit luck dependant. However, if you went with Sam, your castles should all finish quickly. They don't require much to finish, and you should get through the whole thing fast, but as you progress through the different leagues, your RTP goes up, but the castles take longer to build. The good thing is that your progress is saved, so you can continue playing later on if you'd like.
It's a regular slot with more stuff added on top and we quite like it. These additional systems really give it a different flavour and if we had to make a prediction, we'd say games like these will only grow in popularity as time goes on. We were pretty impressed with the original and the sequel more than hit all the right notes for us to love it.
Jackpots & Progressives
There's no progressive jackpot to keep a track of, but jackpots in general will usually come up not while you build the castles, but when you're done with them. Each castle houses a noble lady, and every lady has a suitor. The suitor is random, as is the amount of money they bring, and how much money you get is determined in a random click and pick special feature.
It looks smooth, though we feel a bit more sparkle might have helped improve things. For the time being though, you can find a few satisfying scores during normal gameplay as well, alongside the Marry Me bonus that will no doubt make you a big fan of weddings.
Bonus Games & Sign-ups
There are no bonus games beyond what was already mentioned. The free spins are useful, though somewhat rare to start with. However, we found they came a lot more often once you got out of the bronze and silver leagues and into higher tiers.
Game Screenshots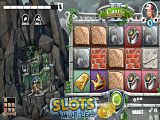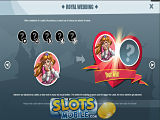 Where to Play Castle Builder II
You might also be interested in these articles