Mobile Slots
Games
Candy Dreams on Mobile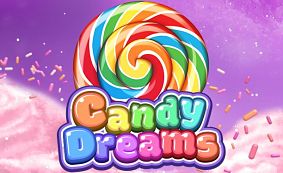 | | |
| --- | --- |
| Provider: | Microgaming |
| Paylines: | 720 |
| Scatter Symbol: | Yes |
| Jackpot: | Yes |
| | |
Where to Play Candy Dreams
Candy Dreams Mobile Slot Review

Some dreams are sweet, some sour, but usually, you'd expect something that has candies as a forefront to be something delicious you'd be coming back to. Sadly, Candy Dreams isn't nearly as foregoing in that aspect as other slots and it continues a series of questionable Microgaming games that seem to be money rushes more so than satisfying experiences. For the entirety of 2017, releases that seemed to have been received positively could be counted on the fingers of one hand. And despite having an interesting reel structure as well as 720 ways to win, this slot aimed at people with a sweet tooth somehow leaves a foul taste in your mouth.
It lives up to its name, at least. The purple background from which sweets seem to be raining down into a sea of pink cotton beneath. We can feel the sugar in our blood rising just thinking about it! This is paired up with some delicious looking candies on the playing field we wouldn't mind picking up from the screen of our phones to put in our mouths, though sadly, they remain out of reach, much like the delicious treats you might expect to win by playing this game.
There are technically two Scatters in Candy Dreams. One activates the free spins special feature, while the other triggers a pick and win bonus. Both of these should be exciting, but are annoyingly rare to actually see on the reels. In one hundred and fifty spins, we have seen only one Scatter feature, and that was the extra rounds one. Admittedly, the win from it was nice, but when it is so rare, we expected a lot more than a 160x increase.
Meanwhile, Wilds are the highest fixed jackpot and little else. They can replace other symbols, but that's given for Wilds, and they can appear out of the surprise box that can appear during the free spins bonus, placing up to 3 Wilds on the playing field. There's little else Wilds can do, making them a somewhat boring icon in this slot.
How to Play Candy Dreams
The main issue with the game is that it feels so unrewarding. Technically, the odds of winning should be big, but nobody seems to be winning. The RTP is said to travel between 95 to 96%, but it is very difficult to believe that when it feels like Microgaming rigged it against you. While we were originally drawn in by the theme, it kept failing to meet expectations and we expect more from these developers.
You can play this slot for $0.50 up to $250, but you could just as easily throw your money in a furnace than spend it here hoping you'll get a decent enough win to justify betting so much in the first place. And in the end, that's a good takeaway to get from all this. It can be fun, but the amount of slogging you need to get through isn't worth it. Not when there are far more interesting alternatives you could be playing instead.
Jackpots & Progressives
There's no progressive jackpot to chase, which might have made the boring grind of small wins and dead spins a bit more bearable. Instead, the biggest single jackpot you could take away is $125,000, betting on max, which equals out to be a 500x win that needs five Wilds in a row. Considering how stingy the game feels, we wouldn't be surprised if nobody even managed to hit that.
At the very least, if you're making medium wins uninteresting or outright impossible, then make big wins that would actually make people excited about things. But at an 500x maximum, that just won't cut it. Both the Scatter bonuses come with a cash increase, but the wins there have yet to make anything interesting happen.
Bonus Games & Sign-ups
Despite two Scatter special features being active, only one gives you any extra rounds you can work towards. By scoring three or more of one type of Scatter, you unlock 12 free spins. Alongside this, they can make Wilds appear randomly on the playing field if gift boxes appear on the centre reel.
This bonus is exceedingly rare and we feel like they could have at least increased the amount of free spins if you got more than three Scatters. Admittedly, they already raise the raw cash prize if that happens, so it isn't that bad, but it still feels sour in our mouths.
Game Screenshots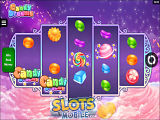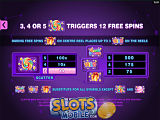 Where to Play Candy Dreams
You might also be interested in these articles