Mobile Slots
Games
Cai Hong on Mobile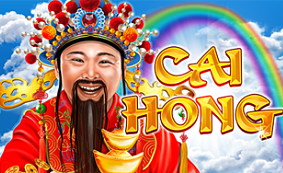 | | |
| --- | --- |
| Provider: | RTG |
| Paylines: | 30 |
| Scatter Symbol: | Yes |
| Jackpot: | Yes |
| | |
Where to Play Cai Hong
Cai Hong Mobile Slot Review

No matter how fun certain slots can be, at the end of the day, the real thrill is that chance that you can walk away with a huge win that will make your day. The cycle of losses and wins keeps us all afloat, all of us hoping to one day win some million and some change extra worth of prizes from a progressive jackpot that'll end any financial responsibility forever. And, when you have that sort of high-risk, profit orientated dream, it probably pays off to curry favour with a divinity that exemplifies fortune. Cai Hong is obviously based on the God of Wealth Caishen, though the name has been altered to mean rainbow while still preserving the similarity. It's a nice take, and when it adds some compelling gameplay on top of it? How can we say no?
The RTG release offers gamblers a 5×3 reel playing field with 30 fixed paylines. Wilds count for all symbols apart from Scatters and while they have a good value of their own that makes you want to try for a five-of-a-kind Wild win, their real value comes from doubling all wins they are a part of. Scatters have a much lower value for money, however, getting three or more will earn you 8 free spins with several bonus picks, which determine how many additional extra turns you receive and how high your multiplier gets. The amount of bonus picks is determined by how many Scatters activated the feature. The absolute maximum you can win is 33 free spins at a 15x multiplier, which makes for a mouth-watering amount of profits if it all turns out well. And given that the multiplier attached to the Wild stacks on top of the multiplier you gain from the free spins, lucky gamblers can see their profits soar even further with some insane levels of luck.
How to Play Cai Hong
While recent RTG releases have seen a remarkable upgrade in visuals compared to their previous offerings, it's hard not to look at Cai Hong as taking a step back on all that. The slot looks serviceable, but it doesn't have any fancy animations that can play, the animals look good, but are entirely static, and the backdrop feels uninspired. The symbols, as well, are a mixture of animals, Caishen, and poker card icons. It certainly seems like the art design took a break when this game was being released.
That said, if you enjoy high volatility titles, you will probably be able to look past the somewhat disappointing graphics. It certainly has the potential thrill of chasing down those free spins before watching at the edge of your seat if you manage to score enough bonus picks to pull off big multipliers or free spins. But while we like it in theory, it feels like its missing one bonus to fill in the gap in between, because as it stands, you spend a lot of time with dead spins or minute wins, and while a big win at the end of it will be worth it, sometimes you will run out of money before reaching it, or that big win won't be as big as you'd have hoped it would be. When it doesn't work as intended, it's awful. When you hit that big win and get the rush, it's amazing. It just needs a bit of work in the middle ground to make it great.
Jackpots & Progressives
Cai Hong's jackpots will come from the special feature that the slot offers. While there are undoubtedly some huge wins you can score outside of it, such as the juicy five-of-a-kind Wild win, there's rarely something you can win there that you couldn't win bigger with all the multipliers and free spins the bonus offers. There's not that much to say about it, as without any other special features or progressive jackpots, gamblers looking for the biggest wins will have to keep spinning and hope the free spins favour them.
Bonus Games & Sign-ups
Apart from the above mentioned bonuses, however, the RTG release has nothing more to offer.
Game Screenshots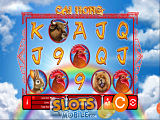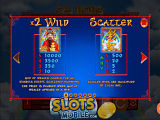 Where to Play Cai Hong
You might also be interested in these articles