Mobile Slots
Games
Butterfly Staxx on Mobile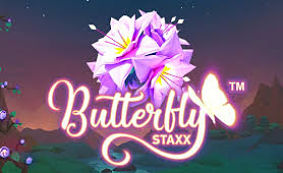 | | |
| --- | --- |
| Provider: | NetEnt |
| Paylines: | 40 |
| Scatter Symbol: | Yes |
| Jackpot: | Yes |
| | |
Where to Play Butterfly Staxx
Butterfly Staxx Mobile Slot Review

When it comes to pretty visuals, it's hard to outmuscle NetEnt. They continue to prove they know how to impress with Butterfly Staxx – a 5 reel, 40 payline slot that is named around its most prominent special feature – a stack of beautiful yellow butterflies that fly across the reels and grant players re-spins. Alongside free spins and a Wild, the game is orientated towards winning many times but a fairly low amount, marking it as another low variance slot, which we seem to be seeing quite a few in the last year or two. Still, we can't deny that it is a damn good thing for what it sets out to be.
The butterfly effect itself seems to be borrowed from an equally popular NetEnt series Fairytale Legends. The symbols are certainly the same, so we were relatively surprised to see them get a game focused solely on them. We can't really remember any recent titles that had butterflies as a focus point, but it goes to show a creative enough mind can make a slot out of anything with enough time. The use of relatively subdued colours makes it look all the nicer when the tree blooms and attracts the bright yellow butterflies, making it look spectacular.
Scatters don't reward any money, and only serve to activate the free spins bonus. Depending on how many Scatters triggered it, you can have between 5 to 7 Butterfly Spins in which cocoons can become active and fly to the leftmost position on the same row it hatched. It works in the same fashion as the butterfly re-spins, only this time around you have a guaranteed amount of spins compared to having to rely on more butterflies to make an appearance to extend the re-spins.
Wilds are also somewhat disappointing, as they complete their original role without much fanfare. There's no massive five-of-a-kind Wild jackpot, or any cash reward at all, no multiplier bonuses that might spruce up an otherwise low variance game if you get properly lucky. Indeed, Wilds continue to look pretty but act relatively boring for the most part, as there isn't much focus in winning outside of special features.
How to Play Butterfly Staxx
With the amount of dead spins you will encounter in this NetEnt release, you won't be surprised to find that most of your wins will be coming specifically through the re-spins bonus. When a full stack of butterflies appears anywhere on the reels, they fly up and to the leftmost position available in the same row as the one they landed on. In our experience, this mostly meant the first two reels fully or somewhat completed, with the third one in a half-completed state when the re-spins stop and the cash is awarded.
With how frequently it pops up, it makes it clear the developers aimed this to be a low variance slot in which you'd win a little bit, lose a little bit, and overall end up in the same place you started with unless you had a massive stroke of luck. Not that it stops gamblers from going ham on it if they feel like it. It allows you to play for $0.20 up to $400 per spin, although we certainly can't encourage a high roller attitude here, given how it operates.
Jackpots & Progressives
There's no progressive jackpot or a regular old jackpot that might interest players. The highest possible wins come out of having five butterflies in a row and even that isn't particularly amazing. The developers had to contend with the fact the bonus made it a lot more likely to fill a full reel of butterflies, so the reward is unfortunately not as great as it could be.
And while the free spins are the only thing that can really rival the re-spins in how much they can pay out, there's no denying that compared to them this special feature is a no show. In about two hundred and so spins, we saw it perhaps once, making it that much rarer for no really greater prize.
Bonus Games & Sign-ups
There aren't any more bonuses to work with, and we feel that might have been a misstep. Right now, the frequent but relatively small wins leave something to be desired, and we feel the developers could have added a multiplier here or a big single jackpot to entice players that more. Right now, it's good for a few spins until you get bored.
Game Screenshots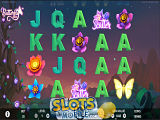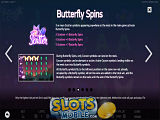 Where to Play Butterfly Staxx
You might also be interested in these articles