Mobile Slots
Games
Beautiful Bones on Mobile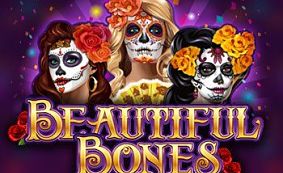 | | |
| --- | --- |
| Provider: | Microgaming |
| Paylines: | 243 |
| Scatter Symbol: | Yes |
| Jackpot: | Yes |
| | |
Where to Play Beautiful Bones
Beautiful Bones Mobile Slot Review

You know it's a sad state of affairs when a big name like Microgaming releases a new slot and we immediately assume the worst. It isn't that the talent has disappeared, but that the company seemed much more orientated towards flashy spectacle while lowering the paytable to a near useless state that has chased away a fair few serious gamblers. And while Beautiful Bones doesn't break the low variance mould, it shows that there are currents in the company that can still deliver something different and fun. Forgoing traditional Scatters, Beautiful Bones allows you to collect them into a pile that grows to activate a free spins and multiplier bonus that grows more powerful the more Scatters to collect.
The theme itself is interesting, based around the Day of the Dead festival that is very popular in Mexico, and the make up on both men and women is clear allusion to that, as well as Scatters being made into decorated skulls. It has some animations to respond to wins, but these are minor at best, and intermixing it with poker card icons like 9, 10, J, Q, K and A seems like a bad idea at first, but they tend to mesh well with the colourfully clothed humans on the playing field. Overall, the graphics are average and serviceable, with the theme itself helping to set it apart.
We already mentioned Scatters and how they work – as the game progresses, you collect them, and they fill up a bar on the left side of your screen. The bonus you can activate within has three tiers of rewards, and each time you reach a tier, you can choose to trigger it immediately or wait to collect more to reach the next one, up until you reach the third and highest rank. The increase is fortunately gradual, although it certainly seems to slow down skull acquisition by the time you get close to the end of any single level of free spins and multipliers.
Fortunately, to alleviate some of the annoyance such a collect-a-thon might cause in players, Beautiful Bones added a special clause to their Wilds. Certain symbols can pay even with just two icons present, and the reason for this is that any three of a kind icon lined up horizontally or vertically will create a Wild in that place, and cause a re-spin. That said, this special feature is noticeably rare, which is sad, as it doesn't really guarantee any wins to begin with, so we feel Microgaming could have made it more common in an effort to break up the monotony.
How to Play Beautiful Bones
With the paytable as it is, there's no one who will be calling this slot anything but low variance, which doesn't quite fit well with the systems that the developers put into place. Piling up Scatters for that biggest free spins and multiplier win should be a slow build up like it is currently, but the end result isn't nearly as satisfying as it should be due to the low pays. The core part of that loop is broken due to the fact the publishers want to have their cake and eat it too.
You can play the title for $0.30 up to $30, which should give a nice spread for gamblers who want to give it a spin. And before you get the idea to spin for the minimum until you get close to activating the free spins and bumping up the wager for a bigger prize, you should know Microgaming are one step ahead of you – all your collected Scatters disappear when the bet level changes, but reappear once you set it back to the one you've been betting on.
Jackpots & Progressives
Without a progressive jackpot, the focus solely returns to the loop of building up the special feature to unleash for one massive streak of wins to come back ahead. Having a focused experience like this is a good thing, as it keeps players from getting distracted by too many bells and whistles that are happening all at once.
But as we already mentioned above, the experience is that much less satisfying because you won't walk away with anything interesting as far as wins go. Gamblers will more than likely look elsewhere for their thrill.
Bonus Games & Sign-ups
There are no real bonus games beyond the Scatter collection. Overall, we feel this is a good thing, but perhaps another little distraction or two might not have been bad since the re-spin Wilds are so rare.
Game Screenshots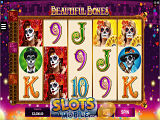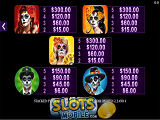 Where to Play Beautiful Bones
You might also be interested in these articles