Mobile Slots
Games
Batman v Superman: Dawn of Justice on Mobile
Home
> Batman v Superman: Dawn of Justice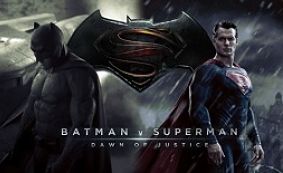 Slots Features
Slots Game:
Batman v Superman: Dawn of Justice
Reels:
5
Wild Symbol:
Yes
Max Bet:
25 coins
Rating:
| | |
| --- | --- |
| Provider: | Playtech |
| Paylines: | 25 |
| Scatter Symbol: | Yes |
| Jackpot: | Yes |
| | |
Where to Play Batman v Superman: Dawn of Justice
Batman v Superman: Dawn of Justice Mobile Slot Review

Often times, people like to take big name characters and put them into the same world. Imagining their favourite characters and how they may interact, and for those people, the prospect of Superman and Batman duking it out in the same movie was as close to the dream as you could get. Of course, the movie didn't fare so well with critics and it got lukewarm reception from audiences, so it wasn't the rousing success that DC movies probably thought it would be. It's perhaps fitting that we find ourselves in a similar situation when faced with Playtech's release for this movie – given the track history of the Batman games that were released by the company, we were looking forward to how they could expand things further. But, it seems, much like the movie, the slot finds itself stumbling over itself in an attempt to woo the audience.
The title offers a 5×3 playing field with 25 fixed paylines. It has a high volatility, so much so that it negatively impacts the game's enjoyment, several bonuses and four progressive jackpots that are ticking in the background, much like in all the other Batman titles Playtech has released. There are two different free spin options for players to activate. The first requires Doomsday, a 1×3 symbol, to expand fully in the third reel. Another option is for Batman and Superman Wilds to appear on the same line and then clash with each other, which also triggers a free spins round. These superhero Wilds can move, with Batman moving to the right and Superman moving to the left. Both of these free spin bonuses have a nice effect of having theoretically unlimited extra turns with enough luck.
How to Play Batman v Superman: Dawn of Justice
While it offers a whole host of unique symbols relating to the movie, we can't help but feel that it just misses the mark when it comes to presentation. The graphics look good, but aren't engaging. The Batman symbol looks so stiff and out of place on the reels, especially when you compare it to Superman's icon. The backdrop also shows a full body rendition of the caped crusader and the man of steel, alongside a foggy backdrop of the city of Metropolis. The user interface does fit rather well with the colour scheme, so points to Playtech for that.
On the gameplay side of things, we wanted to like it so hard, we did. The ideas behind its special features are relatively interesting and both of them offer a lot of potential since neither has a clear limit, and with luck, you could walk away with a huge win. But that happens so rarely that it feels boring. Shuffling Wilds will appear and disappear without much impact and for the longest time, you'll just be staring at small wins that don't even cover your wager and dead spins. It's not the best feeling in the world and it's the risk of making volatility so high that it ruins the gameplay and makes it boring. The progressive jackpots are a good incentive, but nobody wants to go through two hundred and more spins with no wins above their wager for it.
Jackpots & Progressives
As we already mentioned, there are four progressive jackpots, which work much in the same way they do in all the other DC superhero slots. At any random spin, winning or not, the game can activate them. You are then taken to a point and click mini-game, in which you open blue hexagons to uncover one of four colours. Green is the mini win, blue is the minor win, yellow is the major win, and red is the grand win. Once you collect four of the same colour, you win that jackpot, and if you hang around and wait too long to make your decision, the title will autopick something for you.
Bonus Games & Sign-ups
Once Doomsday Free Spins Bonus is activated, Doomsday appears on the fifth reel and starts moving one tile to the left each turn. Anytime superhero Wilds appear, they can push him back from advancing. With enough luck, you could keep going for a while like this, although there's also an incentive to let him get a bit closer, as a full reel Wild isn't that useful in the fourth or fifth reel.
Superman versus Batman Free Spins are activated when Batman and Superman are on the same line and the two symbols clash into each other while shuffling left or right. When the feature is activated, you pick one of the two characters. Every time the two clash, it creates extra Wilds, and every time your chosen hero wins a fight, it gives additional extra turns to the player.
Game Screenshots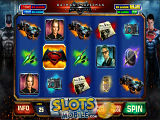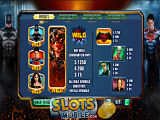 Where to Play Batman v Superman: Dawn of Justice
You might also be interested in these articles