Mobile Slots
Games
Banana Jones on Mobile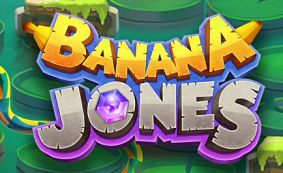 | | |
| --- | --- |
| Provider: | RTG |
| Paylines: | N/A |
| Scatter Symbol: | No |
| Jackpot: | Yes |
| | |
Where to Play Banana Jones
Banana Jones Mobile Slot Review

And now for someone completely different. I don't think it's unfair to say that, for the most part, it's been NetEnt and, to a lesser extent, Microgaming, that have been experimenting with the formula and trying to make video slots more than the sum of its parts. We doubt the core of it will ever be changed, but it doesn't stop developers from sometimes giving it their all to make it work. Sometimes, it works great and everyone loves it. At other times, you get a steaming pile of rubbish (Looking at you, Poke the Guy). So, it's with a somewhat odd, but pleasant surprise that we find ourselves facing something brand new from RTG. It's not a regular slot by any means, though it retains the luck-based element. We couldn't help ourselves from reviewing it, as a result.
One look at the playing field will make it clear there are no reels or paylines. Instead, at the start, the game prompts you to pick your wager and throws you onto the screen. You have five dice rolls, with the end goal of getting Banana Jones from the start to the entrance of the temple. Along the way, you will find several special features. Collect enough diamonds to fill out the meters to the side, and you're given a cash prize even if you don't reach the temple. If you stand on top of a dice-shaped platform, you are rewarded with an extra dice throw. Landing on a monkey head platform will activate the statue, which gives you a spin on the money wheel, which can reward between 0.1x to 50x your wager depending on where it lands. Finally, along the playing field you will also find snakes and roots. The roots take you from the bottom to the top, while snakes take you from top to bottom, impeding your progress towards the top of the temple, though they usually have the decency to drop you on a gemstone to make up for it.
How to Play Banana Jones
Honestly, while the title isn't particularly taxing visually, it feels awesome to play, specifically because of how animated it is. The purple monkey will happily bounce on each tile, when the monkey head is activated you see him act surprised and land on the side to watch you spin the wheel, encouraging you to do it and celebrating even the smallest win with you to cheer you up. When you throw the dice, you see them spin in the air before they produce a result. All of this shows a lot of love and effort went into making this a smooth and enjoyable experience to watch, even on phones and tablets, which can sometimes struggle with showing off flashy stuff.
The gameplay side of things can feel a bit boring, however. Once you pick your wager, your control boils down to whether you want to press the button to see the dice spin. Or, if you want to, you can do it via Autoplay while you just lean back and watch. It's no more control than pressing spin on a slot, but at least there, you feel more involved than you do here. That said, if you're lucky and activate a lot of features, it won't feel nearly as dull. After you clear the field, you're then taken to the temple, where you have a guaranteed win, though there's no promise the win you get will be the big jackpot you're hoping for.
Jackpots & Progressives
The jackpots aren't progressive in Banana Jones – they're tied to your wager, increasing alongside them. The biggest single win you can get is a 2,500x score in the temple by collecting three bananas. Other than that, you could also get a 50x win off the monkey head statue while you're still jumping on the platforms. Keep in mind, this is a high volatility game. It won't be giving up any good wins anytime soon, which means you'll have to play a lot and get lucky to win anything – kind of like any exciting slot.
Bonus Games & Sign-ups
We've already covered all the bonuses you can find in Banana Jones.
Game Screenshots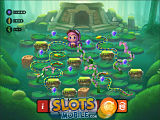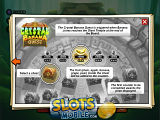 Where to Play Banana Jones
You might also be interested in these articles