Mobile Slots
Games
Astro Babes on Mobile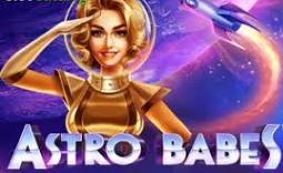 | | |
| --- | --- |
| Provider: | Playtech |
| Paylines: | 100 |
| Scatter Symbol: | Yes |
| Jackpot: | Yes |
| | |
Where to Play Astro Babes
Astro Babes Mobile Slot Review

Some slots make a whole story about their world. They have an animated introduction that can consist of a short movie or specific things happening during the bonus that acts as a journey for the character and the gambler as well. Others, like Astro Babes, just wear what it is on the tin – a fun game with eye-candy meant to please its audience. Hands off to Playtech, as they managed to pull off the futuristic look, make them look like sexy Halloween costumes and avoided going too overboard to make it look a bit trashy. On top of pretty girls in spandex outfits, you also have their tools of choice, whether they are first aid kits, weapons, or tools designed to fix spaceships.
The game offers players a 5×8 playing field with a 100 fixed paylines, which is a lot more than we were expecting. On top of that, win combinations pay on adjacent reels, meaning you can get wins both right to left and left to right. It offers a medium to high volatility, with it leaning a bit heavier on the high volatility end of things, as it take luck and patience for the reels to get rolling properly and for gamblers to get that large 5,000x stake maximum from the free spins. To help achieve this, the babes fill up their entire reel as a large symbol, and they turn wild if they fill their entire reel. Collecting enough Scatters rewards between 12 and 50 extra turns depending on how many activated the free spins bonus. When the extra turns are up and running, the babes are nudged into their reel, giving you greater chances of activating those Wilds and achieving sizeable scores. And while it has no other bonuses, just that one alone is enough to carry Astro Babes into being ridiculously exciting to play when the stars align properly.
How to Play Astro Babes
There are no overtly complicated animations, and, to be fair, given the symbols at hand, there would no doubt be some difficulties trying to get a wrench to do something amusing to watch. That said, the graphics are rather solid, so the artists at Playtech certainly deserve some praise. We already mentioned that we like the careful mix between sexy and classy the babes have going for them, and the futuristic vibe is always a big hit with us. Even the backdrop has that giant moon present, as our space-farers prepare to blast off to make their interstellar deliveries.
And, as we mentioned before, Astro Babes does lean more on the higher volatility side of things. It's not as punishing as some other games in that genre, but there's no denying that without that free spins bonus, big hits are scarce to find. You could spend ages spinning the reels before you get any wins that are worth bothering over, and in most part, it depends how lucky you get with Wilds getting placed. The babes occasionally work out, but the most valuable, golden one, is rarely part of a score, and Wilds need that little extra help that free spins offer with nudging the symbols up or down to get them to line up and form a full-reel Wild. With a hundred reels, that's a lot of venues to win if it all lines up.
Jackpots & Progressives
There's no progressive jackpot present in this slot, as most of the wins will end up coming from the free spins bonus. Keep in mind that it can be hit or miss. We had some good scores on it, and once, after two hundred pulls with only minor wins, we finally ended up activating the free spins and getting only a 15x win. As such, we do recommend budgeting carefully, as Astro Babes can be very harsh when it wants to be, but the reward of 5000x your wager is most certainly worth gritting your teeth over it.
Bonus Games & Sign-ups
Apart from the free spins and full-reel Wilds, Playtech's release offers no other special features.
Game Screenshots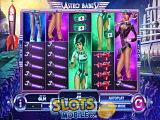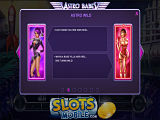 Where to Play Astro Babes
You might also be interested in these articles