Mobile Slots
Games
Asgard on Mobile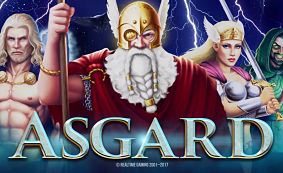 | | |
| --- | --- |
| Provider: | RTG |
| Paylines: | 243 |
| Scatter Symbol: | Yes |
| Jackpot: | Yes |
| | |
Where to Play Asgard
Asgard Mobile Slot Review

With the cold weather settling in over the winter, it seems RTG has decided to embrace the idea and make use of it in their next title. When they're not unleashing dastardly thieves onto unsuspecting Christmas celebrations, they're letting Norse Gods run havoc in Asgard, the mythical afterlife of the Vikings. So you can find Odin, Loki, Thor and Freya all looking rather lavish and bigger than life. Well, all except for Loki, who looks more like he'd be fit at a mental asylum with that grin he's sporting. Or maybe RTG's trying to hint to us the real origins of the Joker?
Either way, this slot offers gamblers a 5×3 playing field with 243 ways to win. It has Wilds that double all wins that it is a part of, a randomly triggered feature called Thunderbolt which can make up to 5 Wilds appear on the reels, and scoring three or more Scatters rewards players with a choice between four different free spins bonuses. The fun part of it, however, is that not all bonuses start off unlocked. As such, RTG plan for you to stick around and play their game for a while if you want to unlock them all, as Loki's special feature only becomes available after triggering the free spins five times, Thor's becomes available on the tenth go, and Odin's favour can only be earned after 15 free spins bonuses have passed through. To balance it, however, RTG made the later bonuses very lucrative, so you best hope you have the luck and patience to unlock them.
How to Play Asgard
While it's interesting to see all the Norse Gods, and their portraits are very well done, the traditional RTG style doesn't quite mesh well with it all. As Microgaming and NetEnt seem to be struggling to see who can make our phones run out of battery faster, the graphics level seems more in line with something you could see a few years back. While Asgard looks okay, it's nowhere near as pretty as its predecessors and it doesn't quite get the charm points for being funny or unique.
On the gameplay front, however, it's a fun experience, if a bit familiar. Putting it all together, it's not difficult to see the original inspiration for this being Thunderstruck 2. That said, they very obviously beefed up the bonuses slightly to lure people in, and that's a very good idea. The concept of progressing through the bonuses is also fun, although we imagine gamblers who are in a hurry, or don't have a lot of cash to sink into one title might object to having to unlock the more lucrative bonuses. Some of the games we reviewed before also incorporated this mechanic of activating a special feature a few times before being able to select it, but they allowed a less powerful version of that bonus to happen during normal gameplay, giving people a sample of what's to come. We feel Asgard might have been successful in implementing a similar idea.
Jackpots & Progressives
And while great wins and powerful boons are not beyond the reach of Norse Gods, it seems progressive jackpots are, as there are none lurking around that we could find. We weren't particularly lucky with this slot, so we can't regale you with any fun stories of awesome wins, but we did get some moderately lucky shots from time to time. The interesting thing about the special features is that the volatility seems to go down as they progress. The first one can give you both the highest and lowest wins, while the others slowly smooth to the middle, so it becomes a matter of risk investment.
Bonus Games & Sign-ups
Beyond the bonuses we already mentioned, there are no additional special features to activate in Asgard.
Game Screenshots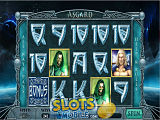 Where to Play Asgard
You might also be interested in these articles