Mobile Slots
Games
Archangels: Salvation on Mobile
Home
> Archangels: Salvation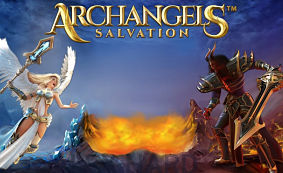 Slots Features
Slots Game:
Archangels: Salvation
Reels:
6
Wild Symbol:
Yes
Max Bet:
400 coins
Rating:
| | |
| --- | --- |
| Provider: | NetEnt |
| Paylines: | 100 |
| Scatter Symbol: | Yes |
| Jackpot: | Yes |
| | |
Where to Play Archangels: Salvation
Archangels: Salvation Mobile Slot Review

The idea of a human soul and some higher power preserving us after death is a comforting one, but the modern world is full of many vices that might lead people astray. And, as with every good story, if you have a strong force of good guys and a large army of bad guys, it's only a matter of time before those two clash with each other to wipe out their polar opposites. And that's exactly the theme of this slot – one angel descending from the heavens and one demonic warrior rising from the pits of hell to clash and claim the souls of wayward humans and the only thing that will decide your fate is how the reels spin.
Archangels: Salvation offers gamblers a 6×12 playing field with 100 fixed paylines. Sure, the world might be doomed in the eternal clash between good and evil, but you can't deny that the potential apocalypse isn't going big. The special features the game offers also use the vertical nature of the title very well. You can still find Scatters and free spins which follow the traditional formula of winning three or more Scatters to activate free spins, and they award you more extra turns if you win more than three Scatters at the same time. However, a much more fun bonus appears from Hot Spot areas, which appear at the very top and the very bottom of the reels. They can activate a heaven or hell feature, and both of these can only be activated if 2×2 Wild lands either partially or completely into the Hot Spot areas. When the heaven bonus is active, 2×2 Wild will create two stacks of Wilds, or four if the Wild is fully within the Hot Spot area. The same thing applies for the hell feature, but it differs because it creates either 8 or 16 single Wilds, instead of stacked ones. And to top it all off, if any Wild lands in the Hot Spots again, it will add one more stack of Wilds or four more single Wilds for landing in the Heaven or Hell Hot Spot, respectively.
How to Play Archangels: Salvation
On one hand, we admire the effort NetEnt put in. On the other, not all the visuals are winners. The symbols look nice, although the poker card icons being the low win symbols was a bit of a foul taste in our mouth. The animations are mostly alright, except the angel in the backdrop, which just looks oddly stiff. The lightning bolts and fireballs that shoot out during the special features look really cool to balance things out, and we do like the general idea of splitting the screen between devil and angel.
On the gameplay side of things, we were expecting a bit more on the angel versus devil theme beyond the Hot Spots. It would have been interesting to create a feature in which you can choose one or the other for a trade-off of some sort. However, gameplay is decent. Despite having 100 paylines to play around with, the Hot Spot areas are the only really creative way Archangels: Salvation uses their presence. The remainder of it plays like a regular NetEnt title, which is probably a good thing if you love NetEnt slots, or bad if you don't. There's not much in terms of mechanical changes.
Jackpots & Progressives
There's no progressive jackpot in this NetEnt release. Instead, most of the wins will probably pile in during free spins. While Hot Spot area Wilds are without doubt more engaging, the winning potential with free spins is so much greater. Keep in mind, however, that Archangels: Salvation is a medium volatility game. It won't take you forever to get a big win, but that big win also won't be as huge as it would be in some other titles.
Bonus Games & Sign-ups
Beyond the already mentioned features, there are no other bonuses to talk about.
Game Screenshots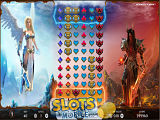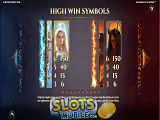 Where to Play Archangels: Salvation
You might also be interested in these articles