Mobile Slots
Games
American Dad! on Mobile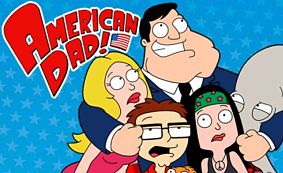 | | |
| --- | --- |
| Provider: | Playtech |
| Paylines: | 40 |
| Scatter Symbol: | Yes |
| Jackpot: | Yes |
| | |
Where to Play American Dad!
American Dad! Mobile Slot Review

We first opened up American Dad! with a bit of hesitation, we have to admit. Over the years, licensed slots were hit and miss, with some sticking in your mind still like South Park Reels of Chaos, and some that really deserved to fade into obscurity, as they relied on nothing more than the brand name to sucker in fans of the show for a few quick bucks before making off with the prize. So we were pleasantly surprised when we played this game a little bit, and found we quite liked it. With 5 reels and 40 paylines, it will feel like you sliced this title out of Seth MacFarlane's show to make an awesome slot.
The look and feel of the whole thing has really been nailed down properly. All the important characters are there, with special throwbacks to the show fans will certainly enjoy, and odds are the prizes associated with those throwbacks will draw the enjoyment of those who play the game for fun special features. The red and white of the US flag being a backdrop was also quite a nice touch.
Rather than use regular old Scatters, American Dad uses Schmooblydong Wheels. The wheels can only appear on the first, third and fifth reel. If they only appear on the first and third, you get a re-spin, and if it appears on all three at once, you score some free turns. The wheel on the first reel decides between which of the five characters you will get. The wheel on the third reel powers it up in a certain way, while the fifth reel decides how many free spins you get.
Alongside Scatters, we have Wilds, or rather, one Wild. Roger, the loveable drunkard alien is the mascot for Wilds, and he knows how to bring the party home. Besides the ability to replace symbols except for Scatters, he also brings the largest fixed jackpot, which makes Wilds all the more exciting to see, especially if there are more than three around.
How to Play American Dad!
Gameplay wise, you won't find that much exciting in this slot apart from the special features. Normal gameplay is relatively dull, so you will be hoping to get as many Schmooblydong wheels as you can find to try out all the different types of bonuses that you can unlock. As such, your experience with this game may vary on how lucky you get with free spins, as there isn't much else for it to boast about.
You can play it for $0.40 up to $200 by adjusting your line bet. You aren't able to turn the 40 paylines on or off, they are firmly fixed in position. Still, the options you are given do cover most of the bases that players will like, even if casual players might find 40 cents a spin to be a bit too much if they don't want to spend a lot.
Jackpots & Progressives
Playtech's release doesn't have a progressive jackpot, and while we do get it, we feel it could have been a bit more added value to the slot. Still, this may be better off, as it maintains the focus on special features that you can unlock for all the biggest wins. And with so many options you can take, it really does help keep things varied.
During the base game the wins aren't really as exciting. The largest fixed jackpot you can carry home is $150,000, or 750x your total wager when playing on maximum bet. Again, for the largest win you can earn in a slot, we usually keep 1000x as a minimum, so we felt a bit disappointed here. Still, the rest of the paytable isn't bad, but it isn't great either.
Bonus Games & Sign-ups
Unlocking the bonus is relatively simple – make sure Scatters are present on the first, third and fifth reel at the same time. The Schmooblydong wheels will then spin. The first one makes a character choice, the second empowers the feature, and the third determines how many free spins you will get.
The first one is Stacking Stan, which will add additional Stan icons on the playing field to increase your odds of winning. The power up determines how many additional Stans you get per stack.
After that we have Roger's random Wilds. Roger can't really hold his drinks well, and vomits Wilds all over the reels. The wheel on reel 3 decides how many Wilds are added per spin.
Then we have Francine's Holy Grail, in which you're trying to pair Klaus the fish and Francine, Stan's wife, in the same reel. If that happens, Francine expands across that entire reel as a Wild. The power up wheel determines how many fishes appear.
Hayley's progressive multiplier was probably our favourite of the bunch. She goes around collecting signatures, which increases your multiplier each time she gets a signature. The wheel on reel 3 decides with what multiplier you start with.
Finally, we have Wheels and Legman, who charge across the reels leaving Wilds in their wake. The power up wheel decides how many Wilds they leave behind.
Game Screenshots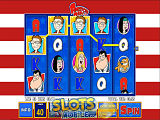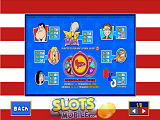 Where to Play American Dad!
You might also be interested in these articles