Mobile Slots
Games
888 Gold on Mobile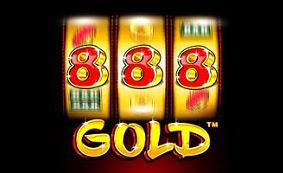 | | |
| --- | --- |
| Provider: | TopGame |
| Paylines: | 5 |
| Scatter Symbol: | No |
| Jackpot: | Yes |
| | |
Where to Play 888 Gold
888 Gold Mobile Slot Review
Pragmatic Play returns with another classical slot, with a few changes to make things a little bit different. This time around, the focus is on Chinese culture, the luck of the colour red and the number 8, as the game embraces its retro charm to send you back to the old times of physical machines spitting out a boatload of coins. And while you probably will not see an overwhelmingly large amount won in 888 Gold, it still has its few charms.
So, what can you find on the small playing field? While the Oriental theme is present, it's mostly lip service. You have several Bar icons which come by themselves or in stacks, Chinese lanterns, gold coins and, of course, the number eight, coated in red and gold.
The slot, like the Irish Charms game we also reviewed, is even lower on special features this time around. While you have more paylines, and a higher maximum bet, you pay for that with the exclusion of Scatters from the title. This has a major impact to gameplay, as this release will have you losing more money inherently due to a lack of Scatter wins to make them up.
What about Wilds, you might ask? 888 Gold is all about Wilds bringing huge wins, but even lone Wilds can be tough to find out in the open. Ultimately, they can replace any icon on the grid, but they appear rarely, due to their incredibly high value acting as the jackpot for this slot. A welcome sight, certainly, but a rare one at best.
How to Play 888 Gold
The developers over in Pragmatic Play managed to capture the annoyance and nostalgia of playing on an old physical machine rather well. The interface helps a lot in that regard, with the reels and setting menu beneath looking entirely disjointed from each other, and the paytable sitting by the side at all times rather than being relegated to a button push to open it. If you're looking to relive those old days pulling a lever in hopes of a win, odds are this game has you covered.
As we mentioned before, 888 Gold gives you more to play around with this time. Adjusting your coin value, paylines, and amount of coins on each payline, you are able to play this slot for $0.01 up to $25. While we are certain some high rollers will want to bet even more, the money disappears quickly when playing this game.
Jackpots & Progressives
In Irish Charms, which we reviewed before, Scatters played a huge deal in making the gameplay feel smooth. Even though you were losing more than you were winning, you still got a lot of consolation wins, which gave you back some of the value you lost beforehand. Even though you are given more paylines which technically increases your odds of winning, the absence of Scatters is immediately noticeable.
It ultimately makes you feel like the slot is trying to gouge you for money. Wilds are just as rare as before, you can potentially a win a static jackpot of $3,000 if you play at the maximum bet and get three Wilds on the fifth payline, but it is honestly not worth it. It plays fast, and you lose money quickly. If you're a high roller, this game is not suited for you.
Bonus Games & Sign-ups
888 Gold keeps up the nostalgia of classic slots, and as such, it is immediately clear you have no assistance as far as special features go. Wilds can replace other symbols on the reels, but with such a small playing field, even getting one Wild in the right place can be a pain.
Game Screenshots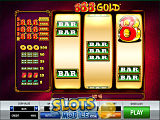 Where to Play 888 Gold
You might also be interested in these articles