Mobile Slots
Games
108 Heroes Multiplier Fortunes on Mobile
Home
> 108 Heroes Multiplier Fortunes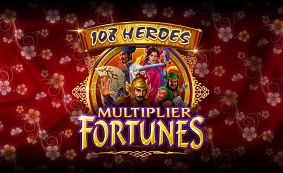 Slots Features
Slots Game:
108 Heroes Multiplier Fortunes
Reels:
3
Wild Symbol:
Yes
Max Bet:
150 coins
Rating:
| | |
| --- | --- |
| Provider: | Microgaming |
| Paylines: | 9 |
| Scatter Symbol: | No |
| Jackpot: | Yes |
| | |
Where to Play 108 Heroes Multiplier Fortunes
108 Heroes Multiplier Fortunes Mobile Slot Review

Microgaming delves once more into the rich culture and history of the far eastern countries for their newest release – a band of heroes ready to step into the line of duty and give their all to protect their people and heritage. But today, their honour and might stands with you – as you spin this 3 reel, 9 payline slot, they will be instrumental for scoring any substantial wins – as these warriors of legend serve as multipliers which will amplify your admittedly small wins. It's a different take on typical 3 reel setup you usually see in games, and we quite like it on paper, though there are some downsides to 108 Heroes that bring it down.
However, as is customary for these small reel slots, there's no other special feature to speak of. The heroes, apart from working as multipliers, also operate as Wilds, but there are no Scatters, free spins or any other form of bonus you could activate. However, once you do end up winning a Wild multiplier, which can only appear on the middle reel, it does initiate a single re-spin, to give you a better chance at maximizing how much you'll score here. The whole premise sounds great on paper, but as with most Microgaming titles, it falls a bit short in practice.
How to Play 108 Heroes Multiplier Fortunes
It's interesting enough visually, though there's little going on. A big part of the screen is static, portraying the four characters on an admittedly beautiful looking red backdrop full of falling white flowers. The reels themselves shake it up a bit more, though apart from the heroes, they use bars and lucky sevens, following the obsession of 3 reel games to look as much as their physical machine counterparts as possible. There is a bit more of an interesting look when a re-spin occurs, as the reels light up and start flashing.
However, as much as it looks pretty and the way it plays is rather fun, the pays are a downside to this game. The paytable is clearly devised around making sure that gamblers are aiming for the multiplier Wilds when they appear, but we feel that maybe Microgaming nailed it a bit too hard. It is a shame, because we do like how 108 Heroes plays – just not how it pays. Hunting the various multipliers is fun, and the potential of seeing them line up for a massive win is always there. But the road to those large scores need some work.
Jackpots & Progressives
Unfortunately, there's not much in terms of a progressive jackpot ticking away in some corner, because it could have proven to be a good way to incentivise and keep players interested. 3 reel slots usually adopt only a single special feature, and don't innovate much past existing limits, trying to keep as close to the physical machine feeling as possible. This is fine for what it is, but the flexibility of having multiple things to look forward to that is more often the case in 5 reel games does make us wish that 108 Heroes had a little bit of something more to spice things up.
The largest single win you can get is a win 666x your wager, and we're not sure if Microgaming picked that number on purpose to just be cheeky, or if it is simply a coincidence. In fact, most of the big wins appear only if you get full three reels worth of multipliers, as without them, the wins drop off rapidly. The smallest one, which is three 2x multiplier Wilds in a row, gives gamblers a 166x win, and the biggest win beneath that is a mere 2,66x score. As you can see, you're heavily incentivised to score with Wild Multipliers.
Bonus Games & Sign-ups
Unfortunately, there are no additional bonuses and special features players can unlock apart from the Wild Multipliers and their re-spins.
Game Screenshots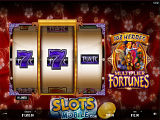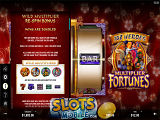 Where to Play 108 Heroes Multiplier Fortunes
You might also be interested in these articles