Mobile Scratch Card
Games
Rocky
Where to Play Rocky
Rocky Mobile Scratch Cards Game

Another scratch card following in the footsteps of a hugely successful video slot, Rocky made its way to online gamers everywhere in 2012, and it is fair to say it is already on the way to achieve iconic status. Featuring sequences from the incredibly popular movie series and offering an unconventional game play, Rocky scratch card is set to ensure endless hours of pure entertainment, whether you play it online or on your mobile devices.
Playtech have drawn its inspiration for the game from the famous character of Rocky Balboa, played by the effervescent Sylvester Stalone. In order to make things even more interesting, they have introduced some of his fierce opponents, such as Ivan Drago, Apollo Creed and Clubber Lang, while you will also be seeing Rocky's best friend Paulie and his sister Adrian, as well as boxer gloves and game logo populating the nine individual panels. The game play itself and special features depend on the version you are playing, but this feels like a win-win situation as you clearly cannot go wrong regardless of your choice.
How to play Rocky
Internet version requires you to select your card price between $0.10 and $100 before you start playing, and the interesting thing is there is very little scratching involved here. Rather than having a 3 x 3 grid, you get to select one of Rocky's three opponents, Apollo Creed, Ivan Drago and Clubber Lang. You are then played a sequence from the movie itself and you qualify for a payout in case Rocky wins by a knockout. This can see you win up to 5,000 x line bet. Regardless of your choice, you can reveal the other two fields afterwards to see what would have happened had you opted for one of those.
On the other hand, everything changes when the game is played on mobile. Download the game to your iPhone, iPad or Android device to see a 3 x 3 grid, where movie poster acts as a cover behind which the game symbols are hidden. Tap the value button to select your card value and click buy card to begin. Swipe your fingers across the screen to reveal individual panels and do the same with the prize box to see how much you have won or could have won.
Another huge incentive to play the mobile version is that it has double the maximum payout of the original game. While playing the scratch card on internet can see you win 5,000 x line bet, you can receive up to 10,000 x card value when playing Rocky on your mobile. Simply get three Rocky symbols to appear vertically, horizontally or diagonally and scratch the prize box to reveal your winnings.
Jackpots
Playtech scratch cards, or any other for that matter, are rarely equipped with special bonuses, but maximum coin jackpot tends to be quite high. Online version of Rocky awards payouts up to 5,000 x card value in case your selection between three boxers is followed by one of them being knocked out by the main character. Meanwhile, get three matching Rocky symbols in a column, a row or diagonally on your mobile and win up to 10,000 x card value.
Game Screenshots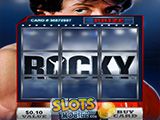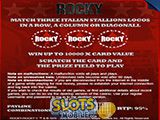 Where to Play Rocky
You might be interest in these articles