Mobile Scratch Card
Games
Love Match
Where to Play Love Match
Love Match Mobile Scratch Cards Game

Since 2010, Love Match scratch card has been available at online casinos, but it was the development of Playtech's Mobile Hub platform that saw the game make its appearance at premium mobile venues in early 2013. This has ensured iPhone, iPad and Android users can enjoy this adorable game wherever they are, with the mobile version proving even more entertaining than the original, just like many other scratch cards developed by the leading software provider.
As its name would suggest, romance is the prevailing theme of Love Match, with cute female angels acting as match makers and luring lovers into their trap through the use of romantic gifts that are extremely hard to resist. These include champagne, flowers, lollipops, love letters, teddy bears and cakes, so make sure you stay on the angels' good side and they might just pop up at the game board to award you hefty payouts.
How to play Love Match
Love Match scratch card has a blue sky background, while the game board is placed on a sheet of old-style paper. The blond and redhead angels are overlooking the grid, with one of them playing harp and the other one acting like Cupid, holding a bow and arrow.
The online version has all + and – buttons shaped like hearts, which is definitely a nice touch. The + and – are used to select card value between $0.10 and $100, while another set of these lets you choose the number of autoplay rounds, from 1 to 99. Scratch all and shuffle options are also available only when playing on your computer.
As far as the mobile version is concerned, there is no autoplay option, while tapping the value button lets you select preferred coin denomination. The 3 x 3 grid hides nine symbols and these are revealed by using the swipe motion on your phone display. You need three angel symbols of any kind in a column, a row or diagonally for a payout, with none of the other icons awarding any wins. When you do land three angel symbols in the aforementioned order, a random multiplier and your card value determine the prize.
Jackpots
Love Match mobile scratch card carries a 10,000 x card value jackpot, which has become synonymous with all Playtech games of this kind. Besides matching three angel symbols vertically, horizontally or diagonally, you also need to land the biggest multiplier in order to win the game's jackpot. Nevertheless, as long as these angels keep visiting the game board on regular basis, you should have no problems turning a profit.
Game Screenshots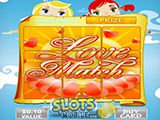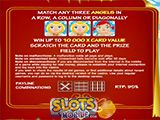 Where to Play Love Match
You might be interest in these articles