Mobile Scratch Card
Games
Iron Man 2
Where to Play Iron Man 2
Iron Man 2 Mobile Scratch Cards Game

Iron Man 2 scratch card first appeared in July 2011, in the second series of scratch cards released by industry leaders Playtech. It was the first of many titles to follow based on the famous Marvel video slots, which has certainly helped the game position itself well in top online casinos. Even if this is unlikely to be your game of choice when playing on your computer, Iron Man 2 is just perfect to be played on the go, with it being compatible with Android, iPhone, iPad and all other latest handheld devices.
Iron Man 2 is themed on the 2010 superhero movie of the same name, and we are sure you will enjoy seeing the likes of Tony Stark, Natalie Rushman, Ivan Vanko and other heroes and villains all over again. All these characters and many more will be appearing on the game board, but bear in mind that you will only be awarded a payout for three matching reactor symbols. The other game icons are only there to make things more interesting, but chances are you wouldn't mind this, especially if you happen to land the main prize.
How to play Iron Man 2
The game board features a familiar setting, with Iron Man and Black Widow on the right cheering you on and War Machine, Whiplash and his Drones on the left hoping to scare off any potential winnings. There are nine panels on a 3 x 3 board that hide the game symbols and these can be scratched either individually or all at once.
Tapping + and – in the card value box determines the size of your wager, which can be anywhere from $0.10 to $100. Since all winnings are multiplied by the card value, this can have a huge effect on the size of your winnings. While scratch all option is supported, just like autoplay, we recommend swiping across your phone screen to reveal hidden symbols since this is much more exciting than revealing them all at once.
After you have done that, you also need to scratch the prize panel, located just above the grid. Shuffle option allows to to reset the game when things are not going according to plan. The main object of the game is to match three reactors in a row, a column or diagonally, which will see you win up to 10,000 x your card value.
Jackpots
With so many options available, Iron Man 2 feels more like a video slot than a simple scratch card game, but that is just one of its many virtues. The 95% return to player should always give you a good chance of turning a profit, but it is the 10,000 x card value jackpot that is the main stand out feature here. Simply get three reactors to appear on the board vertically, horizontally or diagonally and you can be the big winner.
Game Screenshots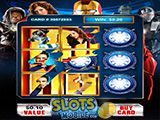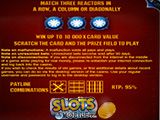 Where to Play Iron Man 2
You might be interest in these articles