Mobile Scratch Card
Games
Chicago Streets
Where to Play Chicago Streets
Chicago Streets Mobile Scratch Cards Game

Chicago Streets scratch card game first appeared in Playtech online casinos in 2012, and it has since gained a massive popularity in the online gaming world. Unlike most other scratch cards coming from the world-famous software developer, this game is not based on an existing video slot, but has rather been developed from scratch. And while it can also be played on your computer, Chicago Streets is meant to be played on the go and it is only on mobile that all special features come to the fore.
The game owes much of its popularity to the prevailing gangster theme as Playtech has drawn inspiration from the prohibition era, when Chicago was the centre of organized crime in the United States. We have no doubts you will enjoy seeing numerous mobsters, their wives, weapons, getaway vehicles and other symbols linked to the era on the grid, while doing your best to increase your bankroll. Maybe all those gangster movies you've watched over the years will finally pay off.
How to play Chicago Streets
The scratch card is placed in the dark Chicago street setting, where Mafia boss, one of his soldiers and an attractive lady are watching your every move. The 3 x 3 grid rests on a newspaper bearing the same name as the game itself, with traces of bullets and blood evident on the newspaper cover.
All you need to do before you start playing is select card value that ranges from $0.10 to whopping $100. You can do so by tapping the value box and clicking buy card once you have selected preferred denomination. There are no paylines here but you need to get three matching symbols to appear vertically, horizontally or diagonally for a payout.
The symbols are hidden behind the newspaper cover and you are bound to have a lot of fun while scratching the display of your mobile phone to reveal them. If you have a winning combination, scratch prize to see how much you have won. All winning combinations have predetermined multipliers, with three game logos awarding 10,000 x card value.
Jackpots
Boasting a 95% return to player and 1 in 3 hit frequency, Chicago Streets scratch card gives you much better chance of winning than some similar games, while featuring extremely interesting game play on your mobile devices. While the game has a number of high value symbols, Chicago Streets logo is by far the most desirable, seeing as how landing three of these in a row, column or diagonally will award a payout of 10,000 x card value.
Game Screenshots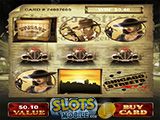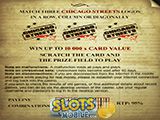 Where to Play Chicago Streets
You might be interest in these articles