Mobile betting and gaming soar to unimagined heights
Mobile betting and gaming soar to unimagined heights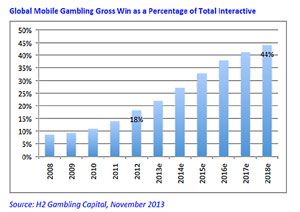 "Mobile: The Future of Interactive Gambling", the latest mobile report compiled by H2 Gambling Capital, has revealed that over €19bn gross win will be generated by mobile betting, gaming and lottery by the end of 2018, which will account to just under 44% of total interactive gaming gross win, or over 5% of all gambling gross win.
The 2018 projected figure represents a huge increase on the €4.5bn that has been placed on the mobile sector in 2012, accounting for just over 18% of all interactive gross win.
More than half of the 2012 figure has been generated by the large Asian horserace betting monopolies, the Japanese Racing Association and the Hong Kong Jockey Club, with the figure itself showing a massive rise on the 2010 amount of €2.4bn in interactive gross win.
Less than 40% of the total mobile activity is now generated by the Asian horseracing monopolies, given that many of these have moved to Europe due to the regulated markets leading the charge, with the trend likely to increase in the coming months thanks to the prospect of a regulated US mobile gaming market.
"The trend has been driven by the stellar growth in both smartphone and tablet penetration, increased device capability and the confidence of users in spend via these devices," H2 Gambling Capital said.
Even if betting still accounts for over 75% of mobile gambling gross win, this is likely to change as both gaming and mobile lottery continue to develop. Requirements for increased device capability have slowed down the growth of gaming on mobile, but this is expected to change over the course of next five years.
Mobile gambling has been ever-present over the past few years and H2's latest report is the result of detailed work that included smartphone penetration by geography, market by market analysis and year-long access to H2's Global Mobile Gambling Dataset.
You might be interest in these articles