Mobile Slots and Money Management
Mobile Slots and Money Management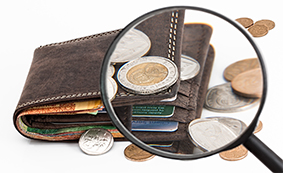 Mobile slots are games of pure chance. This is the first lesson you have to learn before you start playing them. Since they do not require any specific skill or experience, slot machines attract beginners who may end up bankrupt if they don't keep an eye on their bankroll. Regardless of its size, your bankroll is all you have to care about when playing this type of casino games.
Slots have never been more accessible. A long time ago you would have to visit a local casino to play one, now all you have to do is to join a mobile casino and make a deposit and you can end up winning big. However, with these tempting games literally at your fingertips, you can lose all your money as well, that's why it is important to learn more about mobile slots and money management before you get those flashy reels spinning.
Why Mobile Slots Money Management Is So Important
You can't predict whether any of your spins will be winning or losing. Although we all hope for the best, the truth is that we can lose while playing mobile slots. With a proper money management plan, you can actually make the most of playing your favourite slot machine as your win and loss limits will tell you when to stop. Actually, this is the most important move you can make while enjoying this form of entertainment. No matter how entertaining it can be, quitting the game when you have won or lost enough is the best thing you can do.
Setting Your Bankroll Size
We have no idea about your assets or the sums you can use for playing mobile slots, but we can suggest setting aside only those amounts that you can afford to spend. That simply means that you must not gamble the funds you would pay your rent or bills with. This is the only way to feel comfortable while playing slot machines. Otherwise, you may be stressed about losing your much-needed money and you can eventually end up losing it. Once you have spent your money, you won't be able to replenish your budget easily and that's how all the problems start.
So, set your bankroll size and stick to it. You can set aside a monthly budget you would invest in slot playing and break it down into smaller amounts you would gamble on a weekly basis. It is up to you how you will organise your funds, but whatever your option is, you have to stick to it.
Win and Loss Limits
Another thing you should determine is what your win and loss limits are. Wins come and go, that's what happens when you play slot machines. Unfortunately, losses happen too. You have to practice your willpower and learn how to resist temptations and resist impulses. You may be on a winning streak, but once you reach the win limit you have set, stop playing the game. That's how you will keep the cash you have won. It can be used for further gambling in the next session according to your money management plan or you can spend it on something you've been longing for, like a trip or some exclusive piece of clothing.
As important as learning not to be greedy is learning how to quit playing. When on a losing streak, there in not much you can do to improve your performance. Call it bad luck or any other name, but once you have reached the loss limit you have determined, just stop playing. You should never exceed the limits; that's not a reasonable thing to do.
Choose Bet Value Reasonably
Depending on your bankroll, you should choose a bet size that will allow you to make the most of the gameplay. You should not go for higher bet values, especially if you are a novice, as such a style of playing could drain your bankroll quickly. Instead, make sure to play at all paylines active for the best odds of winning and if the game offers bet levels, opt for the level 1. That means that you will wager one coin per payline. Since returns are higher at higher bets, choose a higher coin denomination, but make sure that it suits your budget.
In case you play progressive slots, you may be required to play maximum coins to qualify for the top prize. In this case, you should increase the number of coins you wager to the max and you can decrease the coin size. While such a bet won't yield mind-blowing regular wins, it makes you eligible for the progressive jackpot which can be a life-changing sum.
When to Increase Bet
If you have played Roulette and learned some of the strategies you can use to improve your odds, you have noticed strategies like Martingale or Paroli where you should double your stakes when losing or winning, respectively. When it comes to slot machines, you should play at lower stakes if you are losing and increase your wagers only if you start winning. One of the strategies may be that you increase your stake by one coin whenever you win and decrease it by one coin whenever you lose. If the game allows you to wager more than five coins and you are on a winning streak, stick to a five-coin wager and do not exceed it. In case you have returned to a one-coin bet and you keep losing, it is advisable to quit playing the game.
Closing Thoughts
While playing mobile slots on the go, you can face various distractions that can make you lose your focus on the gameplay. Make sure to handle the situation and keep an eye on your bankroll or make a pause until you feel concentrated enough to resume the game. Avoid playing the game in the Autoplay mode as it won't allow you to adjust your stake according to your performance. In this mode, you can easily lose control over your bankroll and exceed the win and loss limits you have set.
To cut a long story short, act responsibly and don't let the game, no matter how rewarding or entertaining it may seem, take control of you.
You might be interest in these articles