Mobile Casino Glossary – Popular Terms and Phrases
Mobile Casino Glossary – Popular Terms and Phrases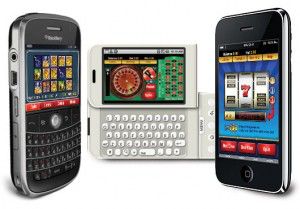 American Roulette – roulette variation with 38 numbers and both 0 and 00.
App – short for application. App is software designed to run on a Smartphone, tablet or other handheld devices, and to provide the best performance of the same device. Casinos use apps to offer their games for mobile play.
Autoplay – a function used for automated spins on a slot.
Bankroll – money available for wagering.
Buy-In – the amount required to sit and play particular game or tournament.
Cashier – the function where players can make deposits or withdrawals.
Coin Size – value of the coins for playing slot machines.
Deposit – putting money into your casino account. Some casinos make depositing possible through mobile devices.
European Roulette – a roulette variation with 37 numbers and only one 0.
First Deposit Bonus – the most common of all casino bonuses. Usually a casino will match your first deposit with a certain percentage, mostly at 100%.
Flash – a multimedia and software platform used as a sort of a player for animations, games, rich internet applications or for streaming videos.
Free Spins – free games on a slot machine, often given as a bonus to new customers or won by playing a slot machine.
Fruit Machine – the oldest form of slot machines popular even today. A fruit machine has symbols that resemble certain fruits, like watermelons, strawberries etc.
Full Site View – displaying the full desktop version of a website on a mobile device.
GPRS – short for General Packet Radio Service. It is a mobile data service used on the 2G and 3G networks.
Hand – cards held by a player at any given time.
Home Screen – the screen on your Smartphone used for the same purpose as a PC desktop is used.
Java – a platform for mobile phones, used for small applications, like games, and is downloaded directly to a phone with the help of its built-in browser.
Lobby – the screen of online casino when logging, where a player can access all games and functions.
Loyalty Points – points awarded based on how much players wager on games.
Mobile Bonus – bonus given for mobile play.
Mobile Browser – a browser used for internet surfing on a mobile device.
Mobile Site – a mobile version of a desktop website, optimized for performing on mobile devices, mainly older models that don't fall under the Smartphone category.
Mobile Slots – slot games available for mobile play.
Multiline Slot – slot machine with more than one pay- line.
Multiplier – a slots symbol with which a winning amount is multiplied several times.
No Deposit Bonus – free money given to new customers to either try the desktop or the mobile casino.
No Download – a term used for a casino that doesn't require downloading of its casino software.
Pai Gow Poker – a two-handed poker played against the house.
Pay- line – a winning line on a slot machine activated if the right symbols are aligned in the right combination, making a pay- line.
Pay- table – an overview of the winning combinations on a slot machine.
Payout Percentage – a number that shows how much of the money wagered go back to the player.
Platform – a technology that allows software to run (or simply, a place to launch software).
Progressive Jackpot – type of jackpot that increases proportionally with the wagers made. In the end only one player can win the entire progressive jackpot amount.
Progressive Slots – slot machines connected with each other forming one single progressive jackpot.
QR Code – a type of barcode (abbreviated for Quick Response Code) that has a greater storage capacity than a standard barcode, used in the gambling industry for providing links to a mobile casino site when scanned with a Smartphone.
Rake – commission charged for dealing poker games.
Random Number Generator (RNG) – the RNG ensures that the outcomes of online casino games are random.
Real Money Account – casino account set up for playing for real money.
Reels – the wheels that spin when playing a slot. The landing of the symbols on the reels will determine whether the player has struck a pay- line.
Reload Bonus – bonus offered to existing customers for making a new deposit.
Sic Bo –game played with three dice where players need to predict their outcome.
Smartphone – a modern mobile phone that runs on operative systems from Apple, Android, Blackberry or Windows.
SMS – text message used for sending link to a mobile casino site.
Stand – function used in blackjack where the player doesn't want another card.
Streak – a series of winning or losing hands.
Table Game – any casino game with a playing table. Such games are roulette, blackjack, baccarat, craps, poker etc.
Table Limit – the minimum/maximum wagering amount in a table game.
Tablet Computer – a touch screen handheld device, which serves the same purpose as a laptop.
Terms & Conditions – they outline the standards of use, provisions, requirements, specifications, rules, how players should act etc. You should always read the terms and conditions since they are important to understand what you are getting into.
Text "XXXX" to a Number – a method used for providing direct link to a mobile casino site where you have to send a text message with a specific keyword in order to receive a link.
Wagering Requirement – amount of money that player needs to wager before being able to make a withdrawal.
WAP – short for Wireless Application Protocol, technical standard used for accessing a wireless network.
Web App – used for the same purpose as an app, only that it doesn't require downloading and installing on your Smartphone.
Welcome Bonus – bonus given to newly registered members as a welcome, usually tied to making their first deposit or their first wager. Welcome bonuses are available for mobile play too.
You might be interest in these articles